Combine partitions means bring two partitions together into a large partition, in almost every partition software, this feature is named as 'Merge Partitions'. It is helpful especially when system C drive is running out of space and there is no free space, by combing two partitions, you can add the free space of drive D: to C. However, to many people it is not any easy task to combine partitions in Windows Server 2008, so in this article, I'll introduce how to combine partitions into a larger one.
Combine partitions with Windows 2008 Disk Management
Step 1: Open disk management by either of the methods below.
Right-click 'My Computer' > 'Manage' > 'Storage' > 'Disk Management'.
Press 'Windows' and 'R' key, input 'compmgmt.msc' and press 'Enter', and then click 'Storage' > 'Disk Management'.
In most of the server computer, the disk partition layout is like this, drive C: D: and E: in disk 0.
Step 2: Backup the files of drive D and then delete it. The disk space of D will become Unallocated.
Step 3: Right-click drive C and select 'Extend Volume' command. Follow up the next steps you can combine the Unallocated space of D to C drive.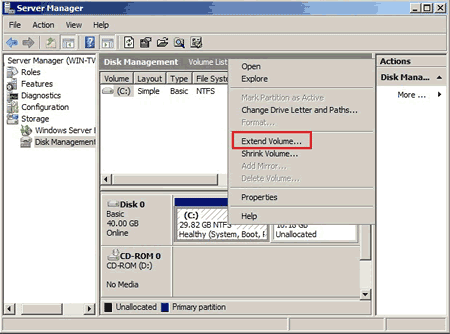 Though it is possible to combine two partitons in disk management, have you found the disadvantages?
You have to delete drive D:
It costs long time to backup and restore, especially when there are large amount of files in this partition.
Under some conditions, you cannot delete drive D if some applications is located, such as SQL Server, Exchange Server, etc.
The shortcuts of the applications installed in partition D become invalid.
What about combine partitions with partition software
To check if it works, open in Disk Management, there is drive C: E: and F: on disk 0, I want to merge C and E, let's begin.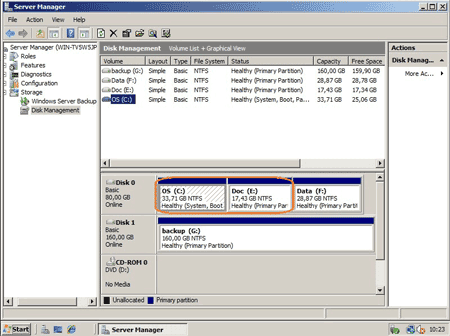 Step 1: Launch Partition Assistant Server Edition, right-click drive E: and select 'Merge Partition'. This command is also available in left 'Partition Operations' panel.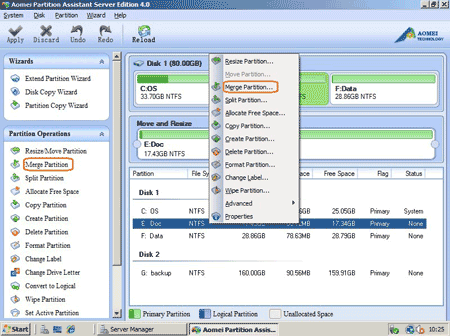 Step 2: In the pop up window, click drive C: and select C as the target partition.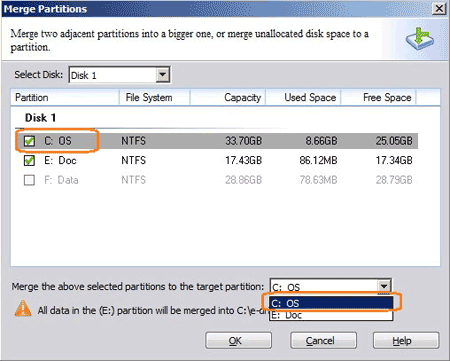 Click OK, you'll back to main window, where you'll find that partition E merged into C: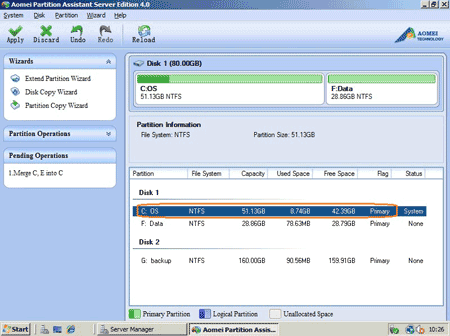 Step 3: Click 'Apply' on top left to proceed merging.

Within several minutes, partitions combining finished.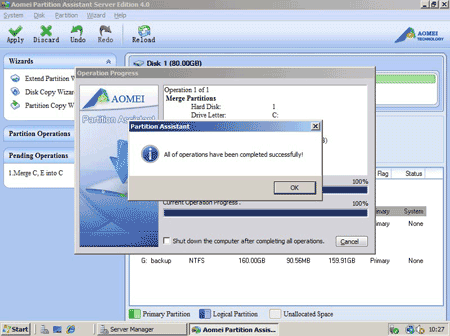 Let's check in disk management, yes, partitions merged. The 'new' C drive grows from 33.71GB to 51.13GB.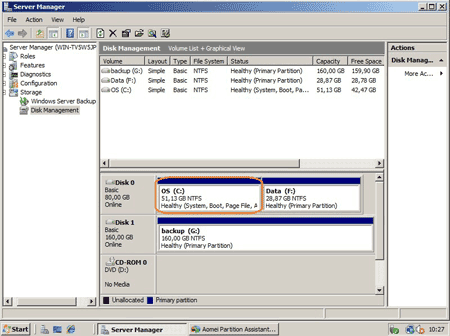 In conclusion, it is easier to combine partitions with partition software, all files exist in drive C:, but similar with merging partitions in Disk Management, original partition D: is lost and the shortcuts of D is no longer valid.
If you want to extend C drive by combining partitions, why not resizing partitions? Shrink the data partition to get free Unallocated space and then extend C drive, so there is no influence to any applications or files, all keep the same except partition size changed, refer how to resize partition in Windows 2008 Server.
Related Articles
How to reduce partition size on Windows Server 2008?
How to extend C drive on Server 2008?
How to partition RAID without rebuilding?
How to resize VMware virtual partitions?