To many people, especially for Server administrators, it is not an easy task to resize partition on Windows 2003 Server, especially when there is 'R2' for Windows Server 2003. Don't worry, in this article, I'll share some experiences how to resize partition on Windows 2003 Server R2.
First of all, let's find out if there is anything special in R2, if you know about this, just skip this paragraph.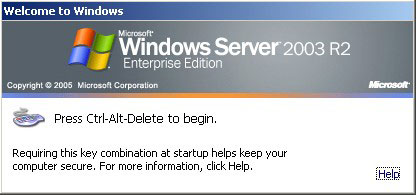 Windows 2003 Server 'R2'
Windows Server 2003 R2, an update of Windows Server 2003, was released to manufacturing on 6 December 2005. It is distributed on two CDs, with one CD being the Windows Server 2003 SP1 CD. The other CD adds many optionally installable features for Windows Server 2003. The R2 update was released for all x86 and x64 versions.
Windows Server 2003 R 2 New features
Branch Office Server Management
Identity and Access Management
Storage Management
Server Virtualization
Utilities and SDK for UNIX-Based Applications add-on, giving a relatively full Unix development environment.
In conclusion, Windows Server 2003 R2 adds many new features, but there is no improvement of disk management and file system, so resizing partition in Windows Server 2003 R2 is similar with normal editions.
Windows 2003 Server R2 partition resizing software
Some people may heard of Diskpart and want to resize partition with this utility, but due to Diskpart limitations, I won't recommend it to resize Windows Server partitions. Third party partition software is much better, as you can shrink and extend any partitions without any limitations, easier and faster.
To Windows Server, data security is the most important aspect when selecting a partition tool, some unreliable partition software are very likely to cause system boot failure or data loss.
As the most popular utility, Aomei Partition Assistant Server is not only reliable itself with built-in Enhanced Data Protection technology, but also integrated Disk/Partition Copy to keep data intact while resizing.
I've tested it on most of the Windows Server editions, every time, it returns with successful message.
How to resize partition on Windows Server 2003 R2
Step 1: check disk layout and partition size under Disk Management. (Right-click 'My Computer' > 'Manage' > 'Storage' > 'Disk Management'.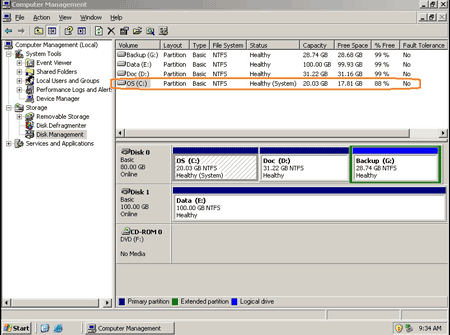 Step 2: Launch Partition Assistant Server, you'll see all disks and partitions that connected to your Server, the partition layout is the same as Disk Management.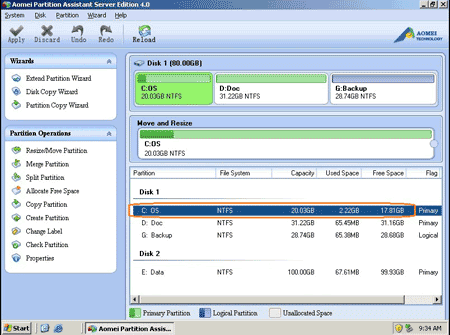 Right-click the partition you want to shrink and select 'Allocate Free Space', or click the feature shortcut on left 'Partition Operations' panel.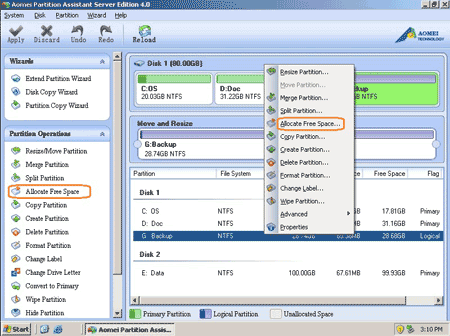 Step 3: In the pop up window, select how much free space to shrink, and which drive to add free space to.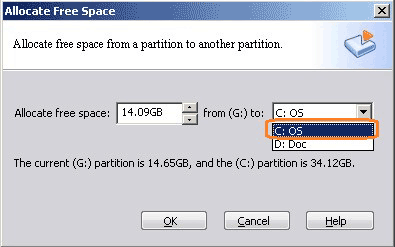 After click OK, 14.09GB free space has shrank from G: and added to C drive.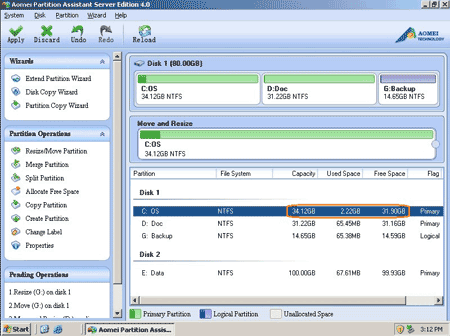 Click 'Apply' on top left to proceed resizing operation. In the pop up window, you'll see all pending operations.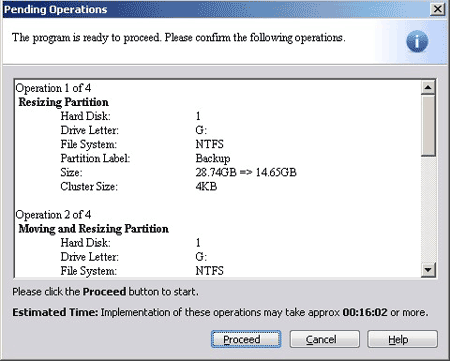 If there is no mistake, click 'Proceed', after several minutes, partition resizing completed. Check in disk management, C drive space has increased from 20.03GB to 34.12GB.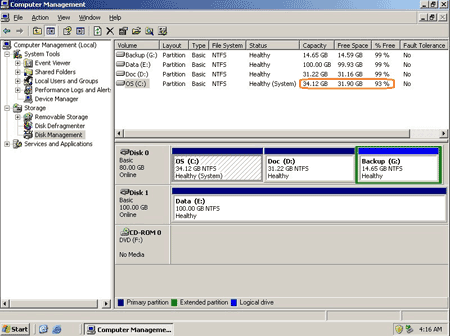 Is it easy for Windows Server 2003 R2 to resize partition without reinstalling?
In conclusion, different with resizing Windws 2003 partition one by one, 'Allocate Free Space' make it easier, you just need to select which partition to shrink and extend, no matter the data partition is continuous or incontinuous with C drive.
If the system C drive is NTFS, you can extend it without restarting Windows.
Lear more about Aomei Partition Assistant.
Related Articles
Increase C drive space on Windows Server
Merge partitions in Windows 2003 Server
Partition manager for Server 2003
Change partition size on Server 2003
Shrink Windows 2003 partition
How to resize RAID 1 partition without rebuilding?