Looking for partition magic working on Windows Server 2003? Actually, there is no partition magic server edition for Windows Server editions, but there is partition magic like utility. To better understand this, continue reading.
About Partition Magic
Partition Magic is a computer program for partition management, which runs on Microsoft Windows Operating Systems or from a bootable CD-ROM. It is compatible with Windows NT, 98, ME, 2000, and XP desktop editions.
Partition Magic is the first partitioning utility that is able to resize partition, merge partition without data loss. It is first released by Power Quest corporation and then acquired by Symantec in 2003.
On October 13, 2011, the Symantec website states, "Sorry, we no longer offer Norton Partition Magic."
Partition magic for Server 2003
After been acquired by Symantec, PartitionMagic has not been upgraded. So it is not possible to extend, resize server partition under any advanced Operating System, such as Windows 2003, 2008, SBSs, etc.
So to resize Server 2003 partitions, you need to find other partitionmagic like software.
Partition software for Windows Server 2003
Partition Magic Server is such magic server partition manager software that is special designed for Windows Server editions. It is compatiable with Windows Server 2008/2003/2000 and Small Business Server 2011/2008/2003. Local/external hard disk drive, VMware, RAID array, Hyper-V, USB disk and memory cards are all supported.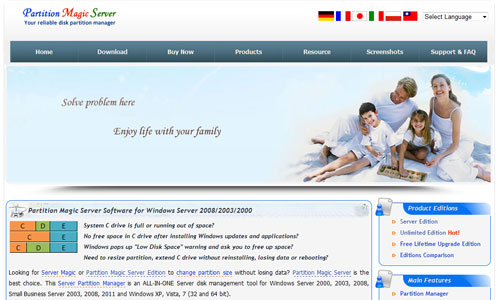 Partition Magic Server features
Partition Manager feature
It is an integrated set of powerful tools helps you resize partition, split partition, merge partitions, extend system and data drive without losing data. Create, delete, format, hide/unhide, set Active partition, convert Primary/Logical partition, etc. 
Disk Partition Copy
Disk and Copy Wizard helps backup data, migrate/upgrade disk with reinstalling Operating System.
Download this partition magic 2003 server free trial and check how it works.