Looking for reliable partition manager for Server 2008 (R2) to manage your server disk partitions? In this article, I'll introduce 2 types of Server 2008 partition manager software.
Native disk partition manager in Windows Server 2008 (R2)
The same with previous Server 2003, Server 2008 has a native disk partition manager - Disk Management. It can do some basic operations, such as create, delete, format partition, set Active partition, change drive letter and path.
Better than previous version, Windows Server 2008 has new "Shrink Volume" and "Extend Volume" to help change partition size. But it can only shrink NTFS partition to create new volume, or extend NTFS partition after deleting the contiguous volume on the right. If you want to extend a partition by shrinking another one, Disk Management cannot help you.
Windows Server 2008 Disk Management has option to convert disk between MBR and GPT, but you must delete all partitions on the disk in advance. If you want to convert disk partition without losing data, resize partition without restriction and do other advanced disk partition management, you need third party reliable partition manager for Server 2008 (R2).
3rd-party partition manager for Windows Server 2008 (R2)
There are many disk partition software for Windows Server 2008 and other versions in the market. The graphic interface and functions are similar. Many people don't know how to select the right one. There are several factors you should concern:
1. Data protection ability
Unlike data read-only program, disk partition software will modify parameters of partitions and files, or move files to other locations, or update system boot related files. Therefore, there's potential system/partition/files damage risk with unreliable software. Better than other partition manager software, NIUBI Partition Editor has Virtual Mode and Cancel-at-well technologies to avoid wrong operations. The most important, it has 1-Second Rollback technology to revert server to original status automatically and rapidly if it detects any error while change disk partition.
2. Efficiency
Some operations such moving partition and copying disk partition requires a long time to finish. Nobody likes to wait a long time, especially when these operations requires server rebooting to accomplish. A good algorithm can save much time. Because of the unique file-moving algorithm, NIUBI Partition Editor is 30% to 300% faster than other tools.
3. Amount of functions
You may need to do many operations to a server hard disk drive. For example, initialize brand new disk, create, delete, format, hide, wipe partition. Clone disk partition to migrate OS and data, convert disk partition type, optimize file system, etc. A good disk partition management software can fulfill most of your requirements.
Download NIUBI Partition Editor on your server, you'll see several sections in the main window: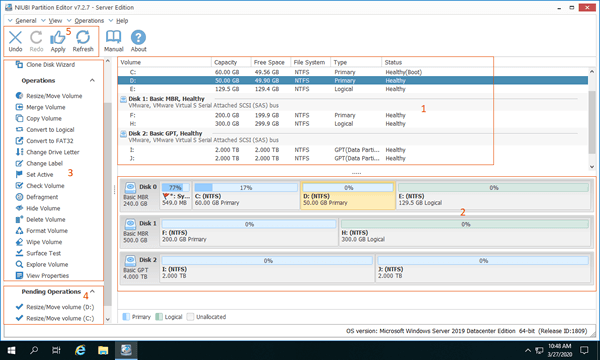 All partitions in a list on the top
All storage device with partition structure on the bottom
Some wizards and available operations to selected disk or partition
Pending operations on bottom left
Apply, cancel or redo the pending operations.
This program is designed to work in its "Virtual Mode" in advance, real disk partitions won't be changed until you click "Apply" button to confirm.
This disk partition manager supports Windows Server 2008/2012/2016/2019/2022 and previous Server 2003. Any types of SSD, traditional HDD, any types of hardware RAID array, Hyper-V/VMware/Virtualbox, USB disk and flash drive are all supported.
Watch the videos how it works on the servers.
Server 2008 partition manager resources
Updated on: February 26, 2022