As a tech consultant, blogger and forum moderator, I was asked many times 'is it possible to shrink a partition on 2003 Server without destroying data'. Of course, the answer is yes, in this article, I want to share some experience about how to shrink Server 2003 partitions.
Why shrink Server 2003 partition
Many people complain that the default partition configuration in brand Server is illogical, for example,
System C drive is too small
Data partition is too large and waste space
Due to basic disk limitation, three Primary partitions have been used, they cannot create new partitions.
Some people encountered the problem, such as,
- When installing Windows 2003 Server, they forget to create more partitions and installed Operating System to C drive with all disk space.
- Some administrators created 2 or 3 partitions, but they found that it is still insufficient, to manage files more efficient, they need more partitions, but all updates, applications and Server components have been installed, they cannot suffer from starting over.
- Another annoying thing from Microsoft is that Windows continuously download updates, hundreds of MB files are asked to install, neverending.
- Many applications throw files to system partition even if you change the default installation path to other drive.
Don't worry, I'll give you an 'effective prescription' to get rid of the headache.
How to shrink 2003 server partition without losing data?
Launch Aomei Partition Assistant, you'll see all disk partitions that connected to the Server.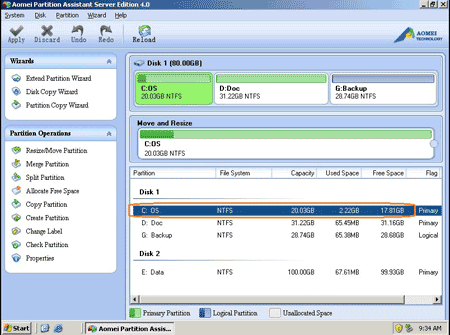 Right-click the partition you want to shrink and select 'Resize Partition', in the pop up window, drag the left border rightward.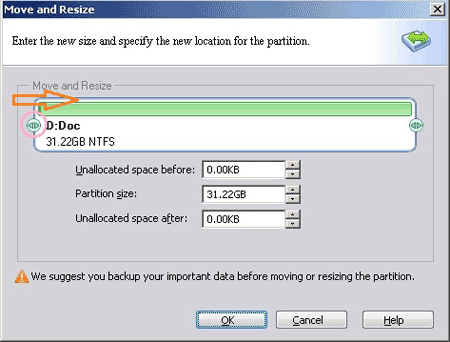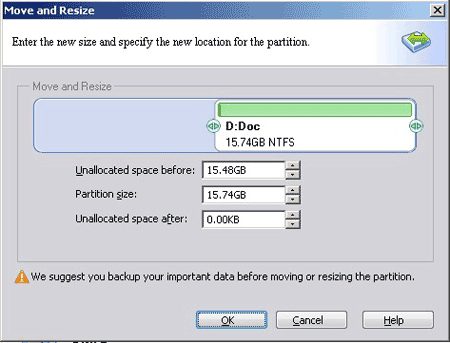 After clicking 'OK', you'll back to main window, where you'll see that there is free Unallocated space created after C drive.
If you drag right border leftward, the Unallocated space will be created afer drive D.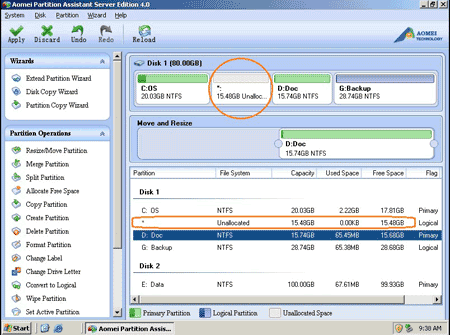 The free Unallocated space can be used to create new partitions or extend another drive, such as system C: (To create partition, right-click the Unallocated space and select 'Create Partition'.)
To shrink Server 2003 partition and create new partitions with less steps, you may refer 'Split partition' feature, see how to shrink partition in Windows 2003 Server.
To extend C drive, it is similar.
Right-click drive C: and select 'Resize Partition', in the pop up window, drag right border rightward to hold the Unallocated space.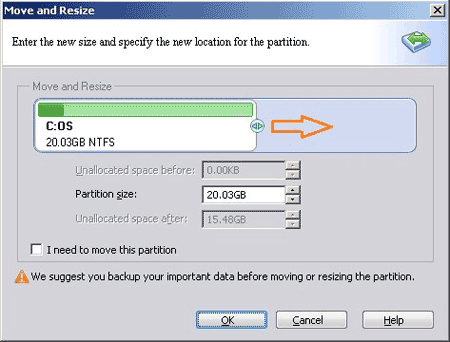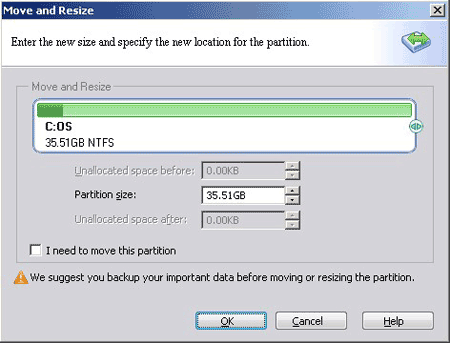 After clicking 'OK', you'll back to main window, click 'Apply' on top left to proceed the shrinking and extending operations.
You can shrink any partition on 2003 Server to create new or extend other partitions.
No partitioning software can extend a drive by shrinking a partition on another physical hard disk drive.
Related Articles
How to resize RAID partition without rebuilding?
How to resize partition in VMware Server?
How to extend C drive on Windows 2003 Server?