Many people want to merge partitions in Windows 2003 Server, but they don't know if it is possible or how to merge partitions, so in this article, I want to introduce how to merge Windows 2003 partitions without destroying data.
Why merge Windows 2003 partitions
The reason why people want to merge partitions in Windows 2003 Server generally is related to disk space usage, the typical example is that system C drive running out of space but there is free space in other partitions. If merging the two partitions, there will be free space in C drive again.
Is it possible to merge partitions in Windows 2003 Server
Of course it is possible. A partition is a block of the hard disk, there is start and end position on the block, the positions can be saved as parameters on a record on MBR and DBR. When Operating System access files of a partition, it reads the record and then it knows which block and where the files are stored.
To merge 2 partitions, you just need to get rid of the end position of the first partition and the start position of the second, and then update the record on MBR, DBR, so the blocks combined into one larger, all files store on the same place and keep the same.
How to merge partitions in Windows 2003 Server
Why software is helpful, it makes thing easier, it make the idea become true, just tell it which partitions to merge and forget it, lol. What you should consider is Server data security, so you have to select a reliable tool for a Server, no one wants to boot failure or data loss.
Among the Server partition software, Aomei Partition Assistant is recommended, as it integrated Enhanced Data Protection technology and Disk/Partition Copy to keep your data intact.
Merge Windows 2003 partitions with Partition Assistant Server
To check whether it works, I take a screenshot of Disk Management.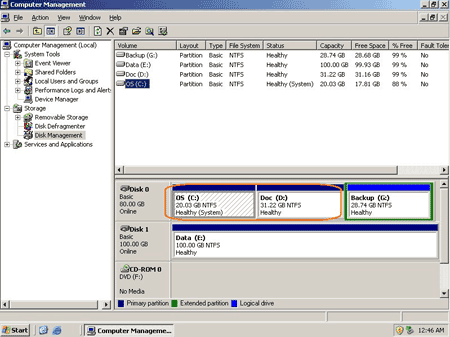 There is drive C: D: and E: on disk 0, I want to merge C and D, let's begin.
Step 1: Launch Aomei Partition Assistant Server edition, you'll see all disks and partitions, as well as detailed parameters.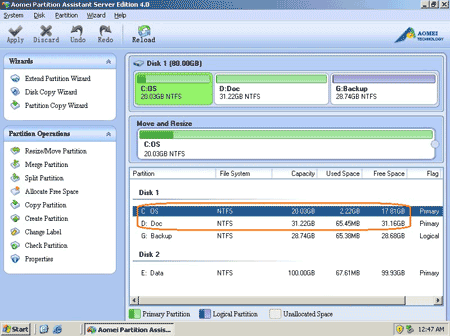 Right-click partition D: and select 'Merge Partitions'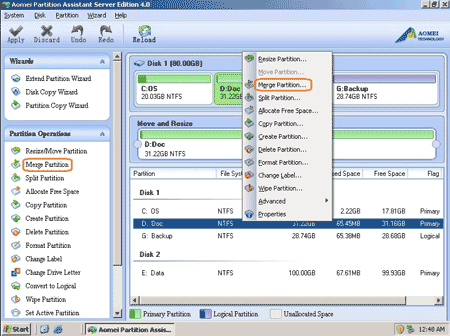 Step 2: In the pop up window, select C to merge and add the space to C drive.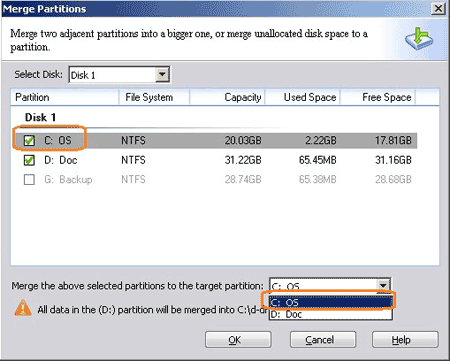 After click OK, you'll back to main window, where you'll see that drive C and D merged into one larger C.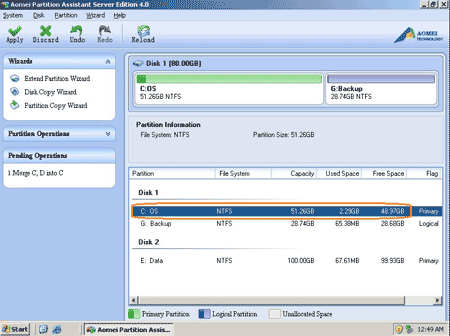 Step 3: Click 'Apply' on top left to proceed, very quickly, done. Let's check again in Disk Management. Yes, successful, great job.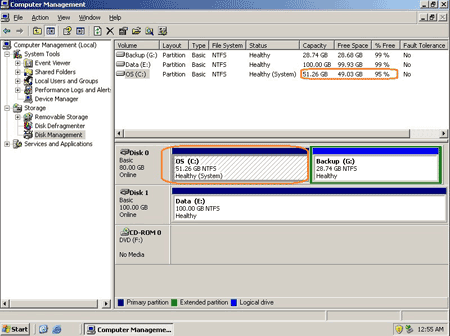 Is it easy to merge Windows 2003 partitions?
Only two continuous partitions on the same hard disk can be merged.
If you want to extend C by taking space from nonadjacent partition, check the resources below.