Combine partitions, also called merge partitions, it means bring 2 partitions together into a larger one. Why people want to combine partition in Windows 2003 Server?
Generally speaking, it is related to low disk space problem. Due to Windows updates, applications and other files eat up the free space of system C drive, 'Low Disk Space' alert pops up or system runs much slower, reboot caused by lack of free space.
Almost every Server has free space on D: dirve or other data partitions, so the administrators want to combine the partitions with C drive, then there will be free space in C drive again.
Is it possible to combine partitions in Windows 2003 Server
Of course it is possible. It is easy to understand, a partition is a block of the hard disk, there is start and end position on the block, the positions can be saved as parameters on a record on Master Boot Record DBR and Master File Table (MFT). When Operating System access files in a partition, it reads the record and then it knows which block and where the files are stored.
To combine partitions, get rid of the end position of the first partition and the start position of the second, and then update the record on MBR, DBR and MFT, so partitions combined with all files intact.
How to combine partitions in Windows 2003 Server
It is easy to combine Windows 2003 partitions, but you should pay attention to data security. To a Server, data safety is most important, an unreliable software are very likely to cause boot failure or data loss.
Among the Server partitioning software, Aomei Partition Assistant is most popular and recommended, as it integrated Enhanced Data Protection technology and Disk/Partition Copy to keep your data intact while merging partitions..
Steps to combine partitions in Windows 2003 Server
To check if it works, I take a screenshot of Disk Management. There is drive C: D: and E: on disk 0, I want to combine C and D.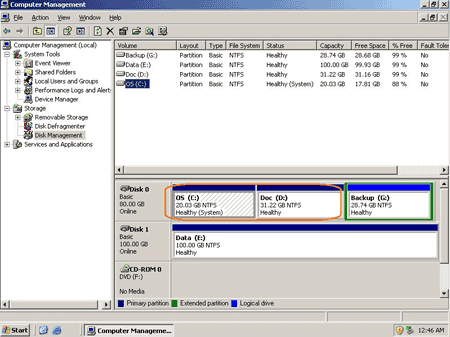 Step 1: Launch Partition Assistant Server edition, you'll see all disks and partitions that connected to this Server.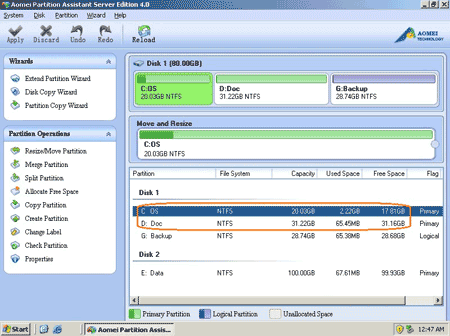 Right-click partition D: and select 'Merge Partitions', this feature is also available in left 'Partition Operations' panel.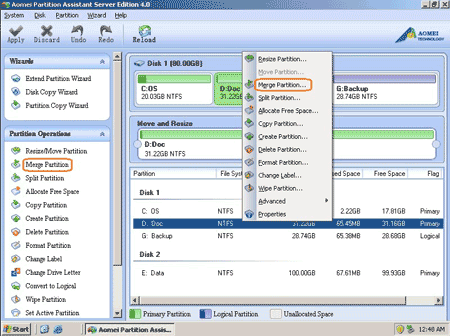 Step 2: In the pop up window, select C to merge and combine into C drive.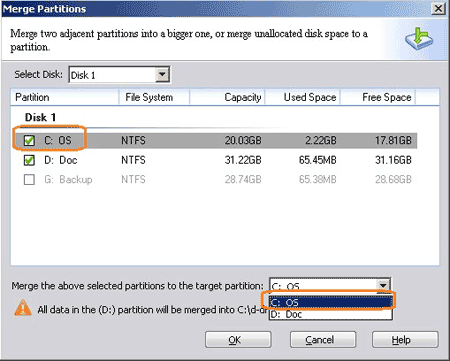 After click OK, you'll back to main window, where you'll see that drive C and D combined into one larger C drive.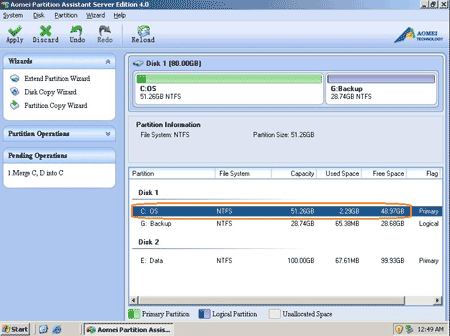 Step 3: Click 'Apply' on top left to proceed, done.

Let's check again in Disk Management. Do you see? Drive D has been combined to C drive, :-D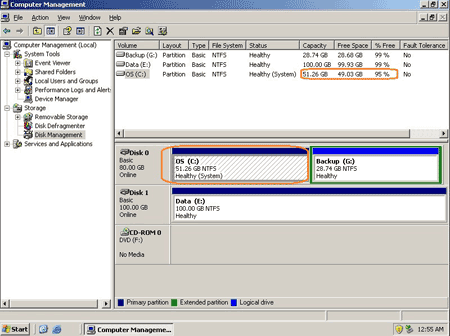 Within three steps, you can combine partitions in Windows 2003 Server without doing anything else, is it easy?
Only two adjacent partitions on the same hard disk can be merged.
This partition software is commercial, learn more about Aomei Partition Assistant.
If you want to extend C by taking space from nonadjacent partition, check the resources below.