When talking about partitioning software, many people bring Partition Magic to mind. What a pity, since being acquired by Symantec, Partition Magic has not been upgraded. So it is not possible to extend, resize server partition under any advanced Operating System, such as Windows Server 2003, 2008, etc.
So in this article, I'll introduce several popular Windows Server partitioning software.
Windows Server partitioning software list
Diskpart command line
For Windows 2003 Server, Diskpart is a free command line tool built in Windows, many people have heard about it. I won't suggest it partitioning Windows Server, as it has many limitations.
The partition you want to extend must be formatted as NTFS
The unallocated space for extension must be behind the partition you want to extend on the same disk.
Only DATA partition can be extended.
You cannot extend the partition if system page file is located.
Comparing with GUI software, command line is too hard to use, impossible to rollback and may leads to data loss.
Disk Management tool
For Windows 2008 Server, right-click 'My Computer' > 'Manage' > 'Storage', and then you can open 'Disk Management' console, where Microsoft adds new 'Shrink' and 'Extend' feature. In my opinion, Server 2008 Disk Management is just the graphical user interface of Diskpart command line, the limitations remain the same as Diskpart. You cannot extend drive C: by shrinking D.
Windows Server partitioning software - Acronis Disk Director Server
Acronis Disk Director has long history to support Windows Operating Systems and File Systems. It provides partition management, partition disaster recovery and disk editor features, GPT, MBR and dynamic disks are supported, but the price is too much expensive - $609, even Partition Assistant Unlimited edition (allows unlimited installation within one organization) plus free lifetime upgrade only costs $ 489.
Windows Server partitioning software - Partition Assistant Server
Partition Assistant Server Edition is an all-in-one Server partition management toolkit for Windows Server 2008/2003/2000 and Small Business Server 2011/2008/2003 both 32 and 64 bit. It helps you resize, extend, split and merge partitions without losing data. If the system partition is NTFS, you can even extend it without rebooting.
The reason why Partition Assistant is so popular is because it integrates Enhanced Data Protection technology and Disk/Partition Copy Wizard to keep your data intact while partitioning.
How to partitioning Windows Server
Launch Partition Assistant Server, you'll see all disks and partitions that connected to your Server, free space, used space and other properties of each partition.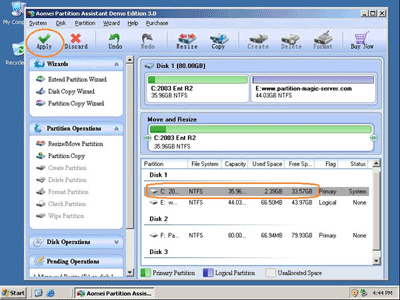 Right-click the data partition and select "Resize", in the pop-up window, drag the left border rightwards to shrink it. There will be some Unallocated space created behind the system partition.
Right-click the system partition and select "Resize", in the pop-up window, drag the right border rightwards to hold the Unallocated space. Click 'Apply' to proceed, done. It is easy? :-D.
Windows Server partitioning software resources
How to resize Server 2008 partition?
How to extend C drive on Windows 2003 Server?
How to merge partitions in Windows Server 2008?
How to fix Windows 2003 low disk space problem?
Partition Magic Windows 2008 Server R2