Merging partitions is also known as combine partitions, it means bring two partitions together. As a blogger and forum moderator, I was often asked the same questions, is it possible to merge partition in Windows 2008 Server, how to merge partitions without losing all files, so in this article, I want to talk about merging partitions.
Why merge partitions in Windows 2008 Server
Generally speaking, it is related to disk space usage, the typical example is that system C: drive become full. It causes many problems if there is little free space in system partition. For example, system runs much slower, reboot or crash, no free space to install updates or applications. Meanwhile, there is large amount of free space in drive D, so if merging D: to C:, there is free space again.
New computer technology make this assumption become true, you can merge two partitions directly.
How to merge Windows 2008 partitions
The first thing you need to do is selecting a partition tool. Pay attention to data safety, as data is most important for a Server. Here I recommend Aomei Partition Assistant, it is said that it integrated enhanced data protection technology to protect data integrity. It never let me fall.
Step 1: Check in Disk Management, there is drive C: E: and F: on disk 0, I want to merge C and E.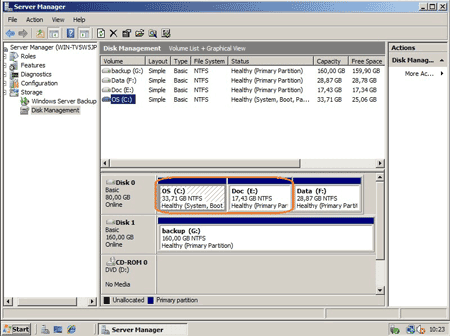 Launch Partition Assistant Server Edition, you'll see all disk partitions and the layout is similar with disk management.
Right-click the partition you want to merge and select 'Merge Partition' feature.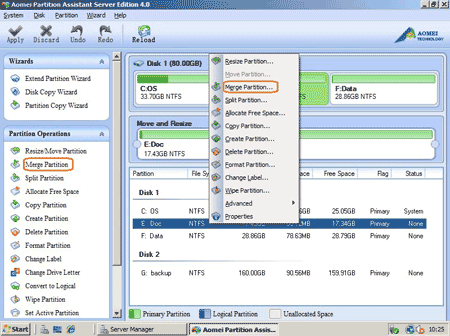 Step 2: In the pop up window, click partition C: and select C as target partition.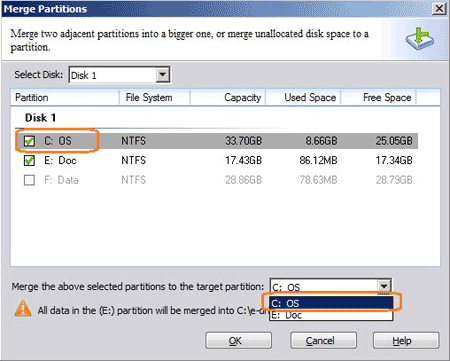 Click OK, you'll back to main window, where you'll find that partition E merged into C: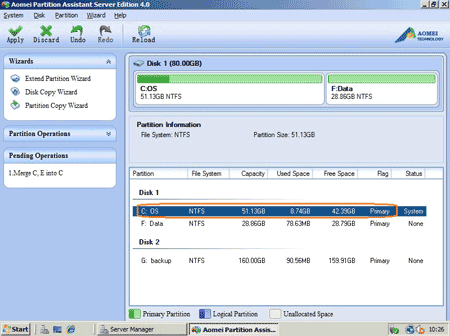 Step 3: Click 'Apply' on top left to proceed merging.

Within 10 minutes, partitions merging complete.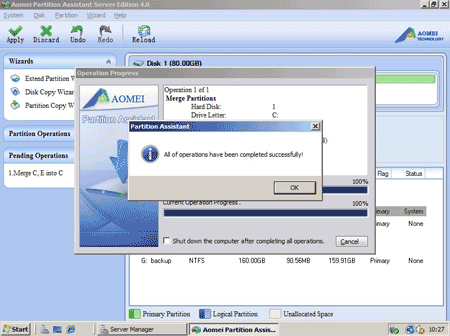 Let's check in disk management, yes, it works. The 'new' C drive grows from 33.71GB to 51.13GB.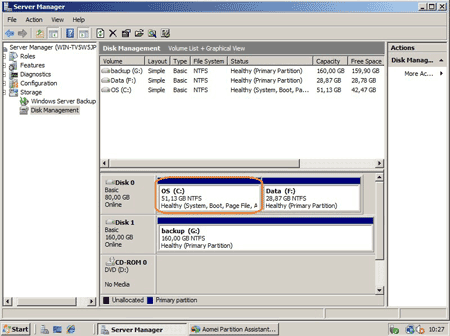 In conclusion, it is indeed easy to merge partitions in Windows 2008 Server, but have you found the advantages?
Original drive E: is lost though all files saved in C drive.
The shortcuts of the applications intalled in partition E become invalid.
It is not a good idea to put data files together with system files in the same partition. As it'll be harder to find files, problem may become worse in the future if original partition E is used for SQL server, etc.
I suggest you shrink the data partition to extend C drive, refer how to resize partition in Windows 2008 Server.
Related Articles
How to reduce partition size in Windows 2008 Server?
How to extend C drive on Windows Server 2008?
How to resize RAID partition?