Partition Magic Server is a magic server partition manager software for Windows Server 2008 and R2, Small Business Server 2008 all editions are all supported. It has been widely used by many companies, universities and governments worldwide.
It provides you with powerful disk partition management features to ensure servers running efficiently, such as Resize partition, Merge partitions, Shrink partition, Extend system and data drive without data loss. Create, Delete, Format, Copy, Hide partition, Set Active, Convert between Primary and Logical, etc.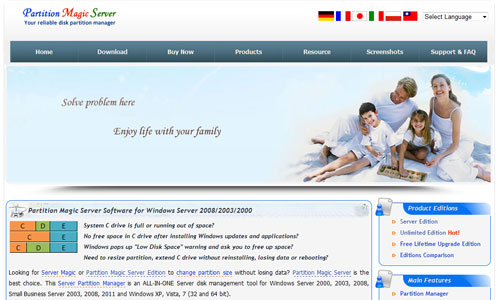 Benefits of this partition magic 2008 server
Resize/Extend partition to fix Server "Low Disk Space" problem fast and easily.
Hot Resize to extend NTFS system partition without rebooting Server.
Copy Disk/RAID to backup/migrate data without Windows reinstallation.
One click reallocate free space from any partition and add to C: drive
All hardware RAID supported.
Unique fast online technical support service.
When system C: drive is running out of space, you'd better fix this problem as fast as possible, otherwise, you cannot install any Windows updates or applications. The worst - system crash if the free space is extremely low.
To completely solve this problem,
1. shrink existing data drive(s) to extend C: drive with the built-in "Resize Partition" or "Allocate Free Space" feature.
2. Change default cache settings of the applications to data drive.
3. Free up space with Windows built-in utilities regularly.
The unique Hot Resize technology built-in this partition magic 2008 server helps you extend NTFS system partition without rebooting to avoid server offline, but before running this program, you should close the open files and applications.
Download the free trial of this partition magic for your Windows 2008 Server.