The same with other Windows Server editions, Small Business Server (SBS) 2008 system C drive also runs out of space and become full. The experienced server administrators know the fast and easiest solution to solve disk space problem is resizing partitions and extend system C: drive. Then is it possible to resize SBS 2008 partitions without destroying data? How to resize SBS 2008 system partition? Don't worry, after reading this article, you'll know how easy it is to resize a partition (volume) on Small Business Server 2008.
Which tool to resize SBS 2008 partitions
The first thing you need to do, of couse is finding a server partition software. There are many partition tools in the market, such as Acronis Disk Director, Partition Magic Server, Partition Assistant Server. To a server, the data security is most important, so select a reliable partition software, as nobody wants to see system crash or data loss after resizing partitions.
How to resize SBS 2008 system partition
Different with other partition software resize partitions one by one, especially when you resize nonadjacent partitions, you have to shrink a partition, move free space and then extend another partition. Here, I'll introduce the easiest way.
Firstly, check disk partition layout in disk management and server storage. There is volume C: D: and E: on Disk 0, I want to extend C: drive by taking space from drive E:, here we go.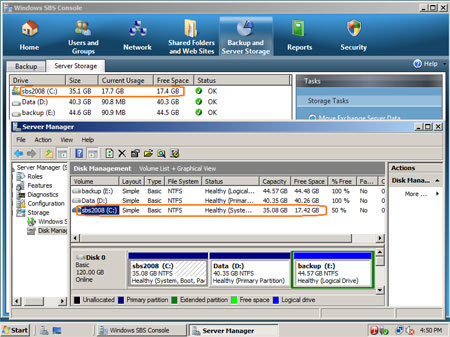 Step 1: Launch Partition Assistant Server, you'll see all disk partitions that connected to the SBS server. C: drive space is 35.08GB before resizing.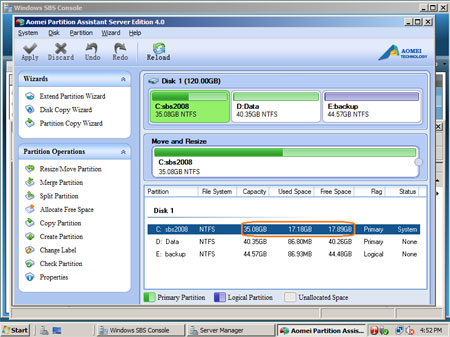 Right click drive E: and select 'Allocate Free Space'.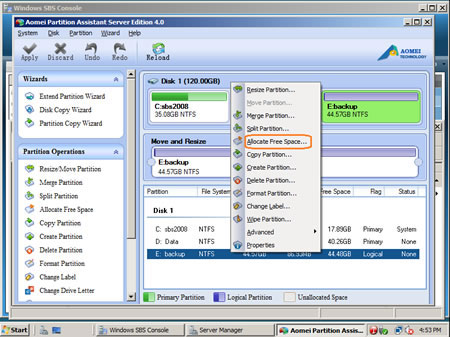 Step 2: In the pop up window, type the value how much space to take from drive E: and add the space to C: drive.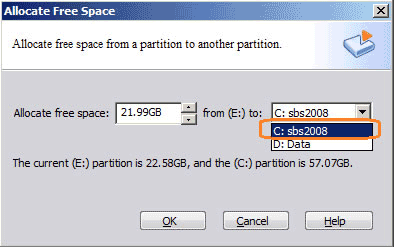 Click OK and you'll back to main window, where you'll find that C: drive space increased.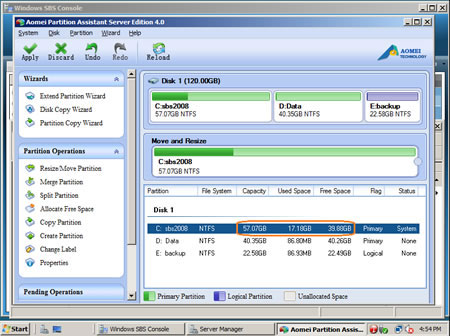 Step 3: Press 'Apply' button on top left to proceed, check the pending resizing operations.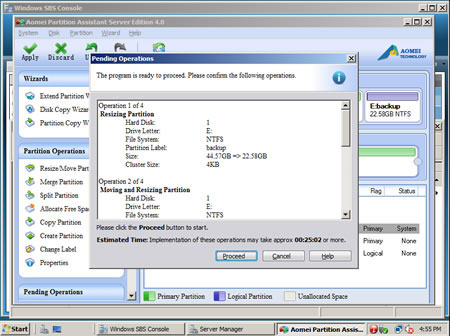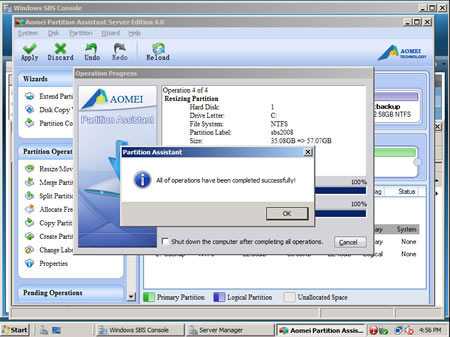 Within several minutes, partition resizing complete, check in disk management and server storage. Yes, both drive E: and C: resized, system C drive extended to 57.07GB.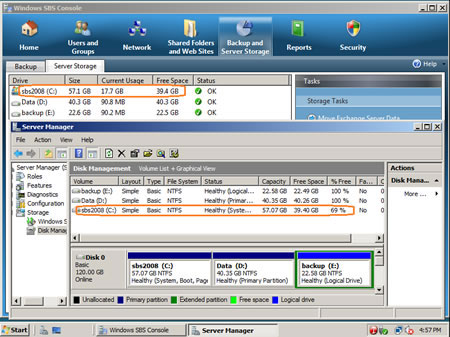 In conclusion, to resize SBS 2008 partition, you just need to select which drive to take space from and which drive add space to, you can resize and extend any partitions.
This program is commercial. If you need it, check the vendor's website of Aomei Partition Assistant.
Related Articles
How to extend C drive on Server 2008?
How to increase partition size on Windows Server 2008?
How to resize partition in VMware?
How to resize RAID partition without rebuilding?