To many people, especially for Server administrators, it is not an easy task to resize partition on Windows 2003 Server, especially when there is 'R2' for Windows Server 2003. Don't worry, in this article, I'll share some experiences how to resize partition on Windows 2003 Server R2.
First of all, let's find out if there is anything special in R2, if you know about this, just skip this paragraph.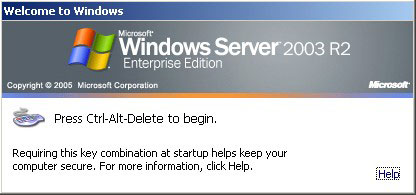 Windows 2003 Server 'R2'
Windows Server 2003 R2, an update of Windows Server 2003, was released to manufacturing on 6 December 2005. It is distributed on two CDs, with one CD being the Windows Server 2003 SP1 CD. The other CD adds many optionally installable features for Windows Server 2003. The R2 update was released for all x86 and x64 versions.
Windows Server 2003 R 2 New features
Branch Office Server Management
Identity and Access Management
Storage Management
Server Virtualization
Utilities and SDK for UNIX-Based Applications add-on, giving a relatively full Unix development environment.
In conclusion, Windows Server 2003 R2 adds many new features, but there is no improvement of disk management and file system, so resizing partition in Windows Server 2003 R2 is similar with normal editions.
Windows 2003 Server R2 partition resizing software
Some people may heard of Diskpart and want to resize partition with this utility, but due to Diskpart limitations, I won't recommend it to resize Windows Server partitions. Third party partition software is much better, as you can shrink and extend any partitions without any limitations, easier and faster.
To Windows Server, data security is the most important aspect when selecting a partition tool, some unreliable partition software are very likely to cause system boot failure or data loss.
As the safest and most popular server partitioning software, NIUBI Partition Editor is the only program that integrated Roll-Back technology to ensure 100% data safety. It automatically roll back the server to the status before resizing in ONE second, if any software error or hardware issue such as power failure occur during resizing. So I always recommend this tool to resize Windows server partitions. I've tested it on most of the Windows Server editions, every time, it returns with successful message.
How to resize partition on Windows Server 2003 R2
Download NIUBI Partition Editor, you'll see all connected disk and partitions. On the test server, there are 3 voumes C: D: and E: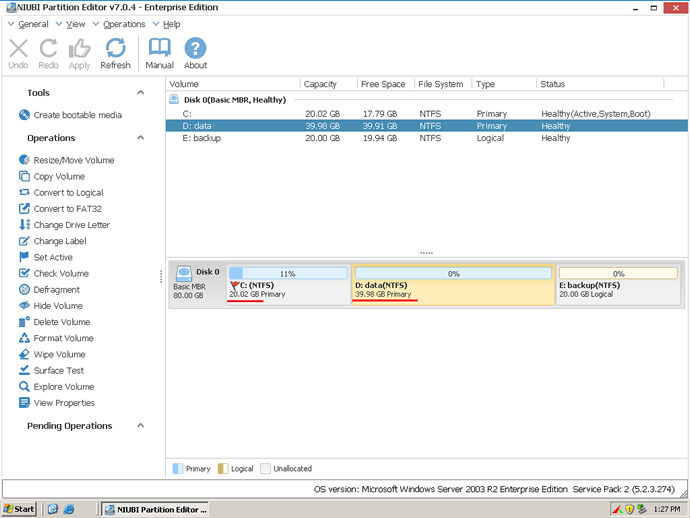 Step 1: Right click D and select Resize/Move Volume, Drag left border rightwards to shrink it in the pop-up window.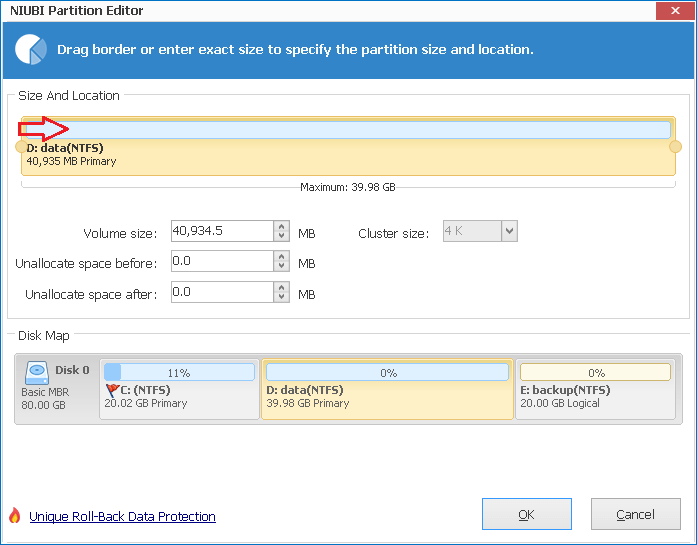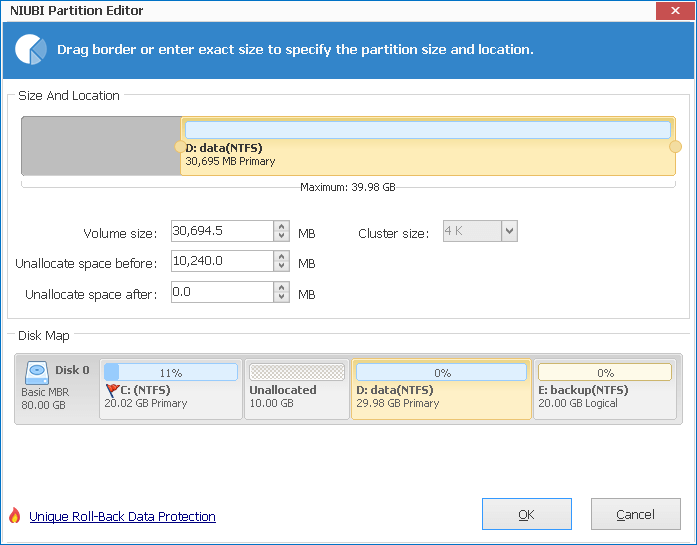 10GB Unallocated space is generated behind C drive.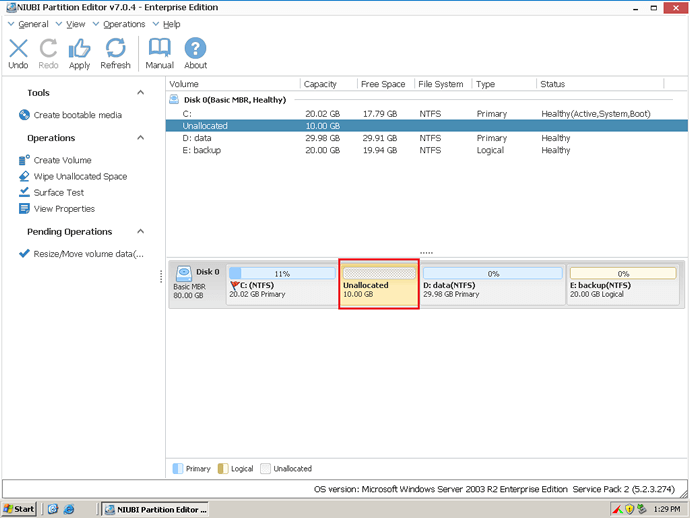 Step 2: Right-click C drive and select "Resize/Move Volume" again, in the pop-up window, drag the right border rightwards to hold the Unallocated space.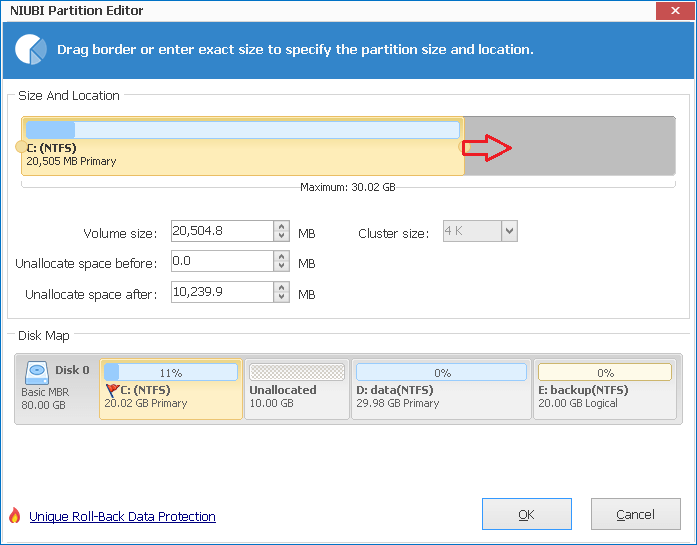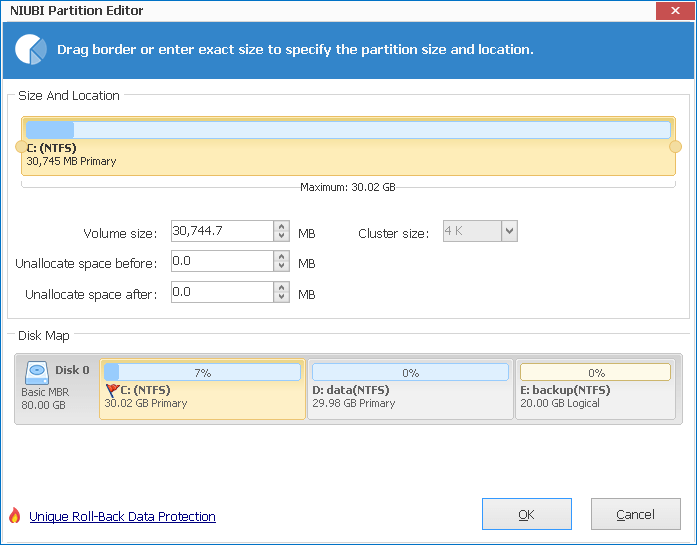 Click OK, in the main window, you'll find that system C drive has been extended to 30.02GB. Click Apply on top left to execute. (All operations before Apply work in virtual mode and you can cancel or redo any step.)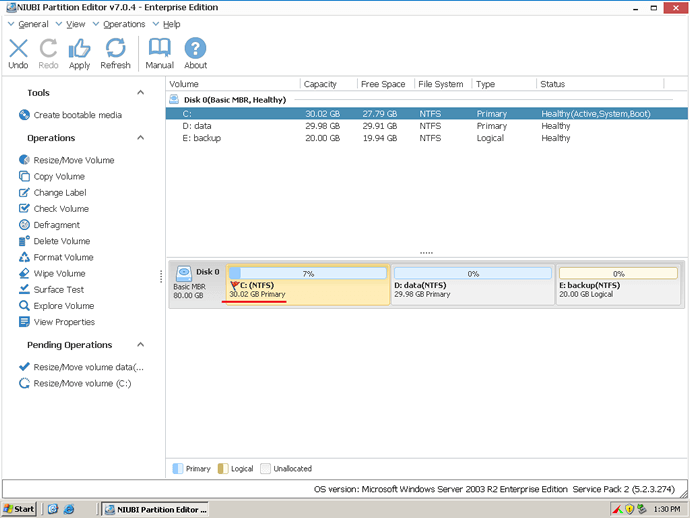 In conclusion, to resize volume on Windows Server 2003 R2, you just need to drag and drop on the disk map to shrink an existing data partition to get some free Unallocated space, and then extend system C: drive without doing anything else.
If you manage many servers, NPE enterprise edition can be installed on unlimited Servers and PCs to save time and cost.
Related Articles
Increase C drive space on Windows Server
Merge partitions in Windows 2003 Server
Partition manager for Server 2003
Change partition size on Server 2003
Shrink Windows 2003 partition
How to resize RAID 1 partition without rebuilding?