Many people need to split partition in Windows 2008 Server, the typical example is that either the system partition or a data drive is too large when creating. To avoid wasting disk space and more efficiently manage files, you need to split the large partition into two or more smaller partitions.
Is is possible to split partition? Which tool is the best to split Windows 2008 partition? How to split partitionn into two? Many people want to know the answers of these questions? Don't worry, in this article, I'll introduce how to split partition with ease.
Which tool to split Windows 2008 partition
It is a good news for the people who want to split partition in Windows 2008 Server, as Microsoft adds new 'Shrink' feature under Disk Management, with which you can split partition without server offline.
How to split partition in Windows 208 Server disk management
Step 1: Open Disk Management. Right-click 'My Computer' > 'Manage' > 'Storage' > 'Disk Management', where you can see all disk partitions connected to this server. Right-click the partition you want to split and select 'Shrink Volume'.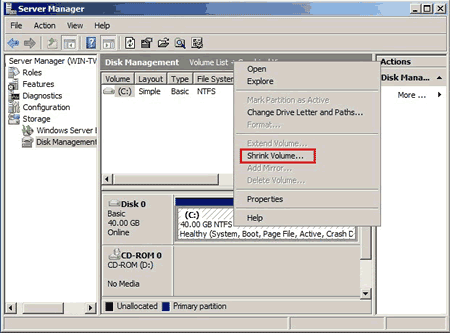 Step 2: In the pop up window, enter the amoun of space to shrink. (The default value is the maximum space can be shrank)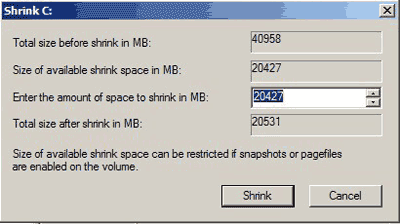 Click 'Shrink' and wait for several minutes, original partition split into a smaller partition and Unallocated space.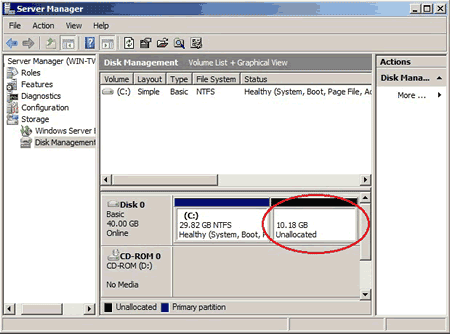 The Unallocated space can be used to create new partitions, just right-click this space and select Create feature.
Disadvantages of Windows 2008 Disk Management
If page file is located, you cannot shrink much space even if there is plenty of free space in this partition.
You cannot extend C: by shrinking D: with the built-in Shrink and Extend feature. To extend a partition there should be Unallocated space behind.
Split Windows 2008 partition with partition software
Different with disk management splitting a partition into Unallocated space, server partition software is able to split one partition into two with one step.
To check if it works, open disk management and view the details of the disk partition. There is only drive C: and F: on disk 0.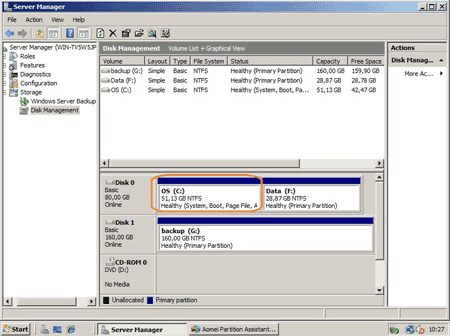 Step 1: Launch Aomei Partition Assistant, you'll see the disk partition layout which is similar with disk management.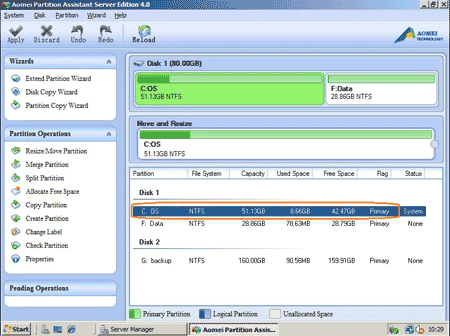 Right-click drive C: and select 'Split Partition' feature.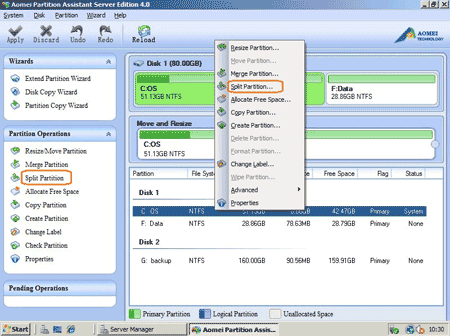 Step 2: In the pop up window, original partition split into two, you may change the default partition size of each partition by dragging the border or type value directly at the bottom.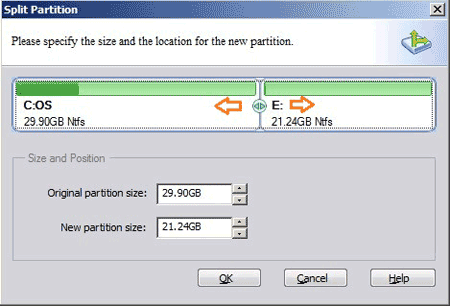 Click OK and back to main window, where you can preview the split partition.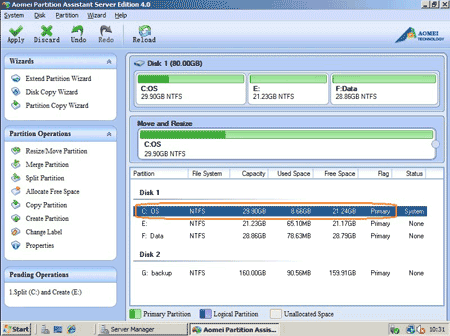 Click 'Apply' on top left to proceed splitting, 'Undo' to cancel last step or 'Discard' to cancel all operations.
Within several minutes, original partition C: split into smaller C and E: successfully.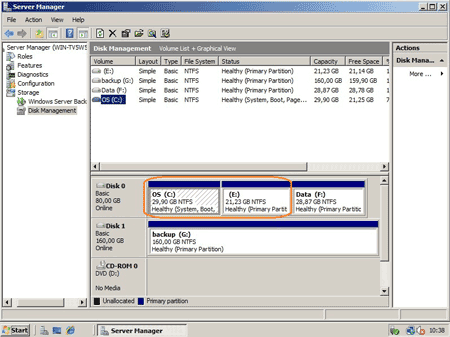 With partition software for Windows 2008, you can split partition, extend partition, merge partition and resize partition, etc.
Related Articles
How to shrink partition in Windows 2008 Server?
How to resize Windows 2008 partition?
How to merge partitions in Windows 2008 Server?
How to extend C drive on Windows 2008 Server?
Partition magic for Windows 2008 Server R2