To many administrators, it is not an easy task to to resize Windows 2003 partitions without losing data, so in this article, I want to share some experience about how to resize partition on Windows 2003 Server.
Which tool to resize partition on Windows 2003?
It is most important to select a partition tool that is stable and safe, as no one wants to see boot failure or data loss after resizing, then which tool is better.
Diskpart Command line
Advantages:
Diskpart.exe is a command line built in Windows 2003, which is free.
Disadvantages:
The partition you want to extend must be formatted as NTFS, FAT partition cannot be extended.
Only DATA partition can be extended.
You cannot extend the partition if the system page file is located.
The unallocated space for extension must be the next contiguous space on the same disk.
Operations cannot be undone, incorrect operations are very likely lead to data loss.
Comparing with graphical user interface software, command line is hard to use for many users.
Server partition software
Advantages:
With third party partition software for Windows Server, there are no such limitations, you can shrink and extend any partitions as you wish.
Disadvantages:
All Windows 2003 partition software is commercial, you need to pay.
In this article, I'll introduce how to resize Windows 2003 partition with Windows server partitioning software.
How to resize partition on Windows 2003 without reinstalling?
Step 1: check disk partition layout under Disk Management. (Right-click 'My Computer' > 'Manage' > 'Storage' > 'Disk Management'.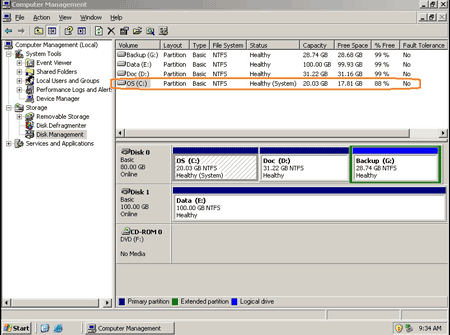 Step 2: Launch Partition Assistant Server, you'll see all disks and partitions that connected to your Server and free space, used space and other properties of each partition.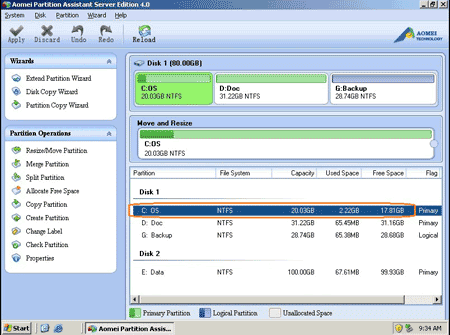 Step 3: Right-click the data partition that you want to shrink and select "Resize", in the pop-up window, drag the left border rightwards.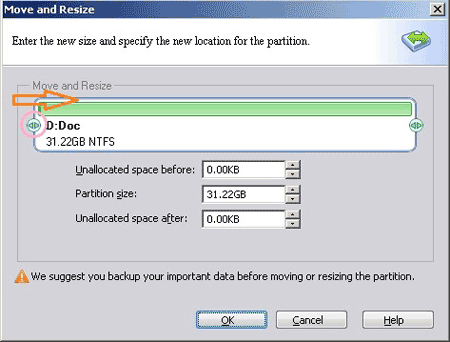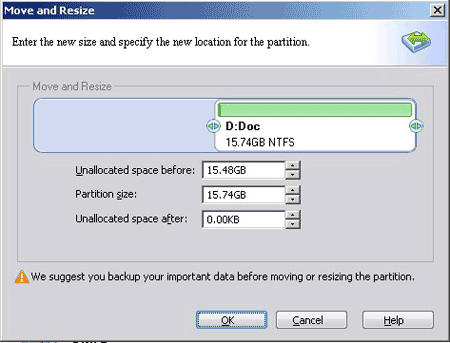 There will be some free Unallocated space created after C: drive.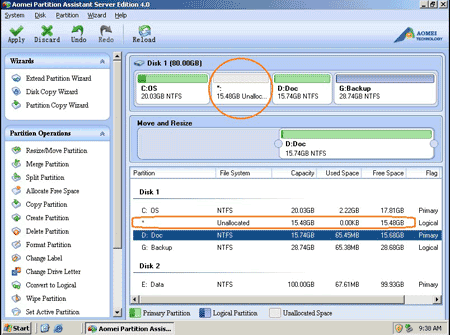 Step 4: Right-click C drive and select "Resize", in the pop-up window, drag the right border rightwards to hold the Unallocated space.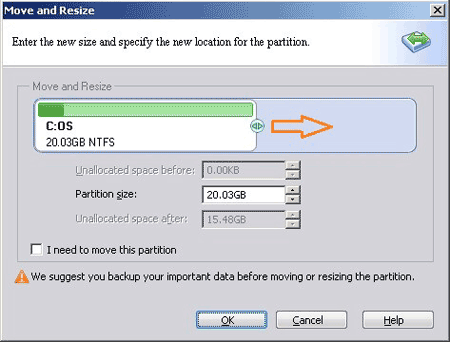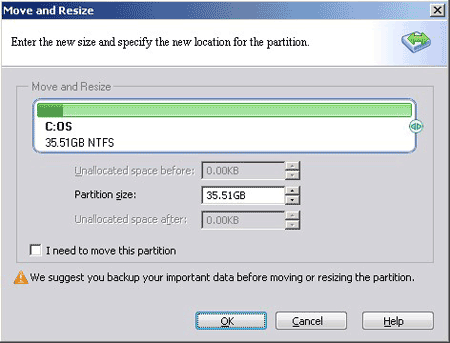 Click OK, in the main window, you'll find that system C drive has been resized.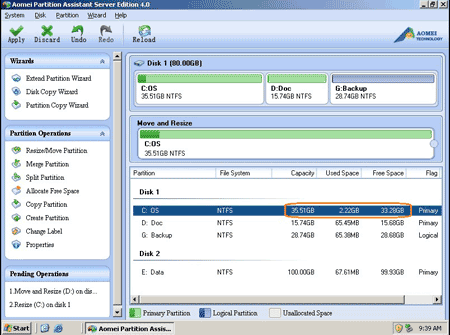 Click 'Apply' on top left to proceed resizing operation.

In the pop up window, you'll see the pending operations.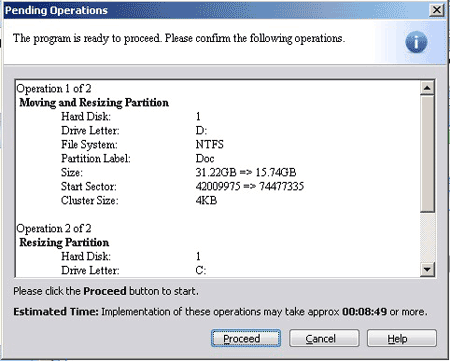 If there is no mistake, click 'Proceed', after several minutes, partition resizing completed. Check in disk management.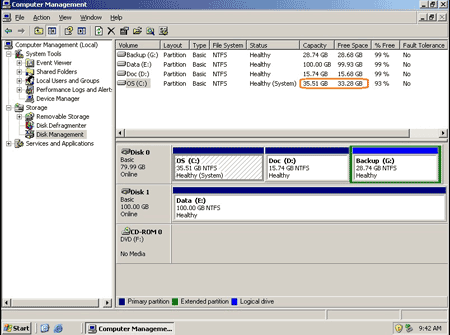 In conclusion, you just need to drag and drop on the disk map to shrink an existing data partition to get some free Unallocated space, and then extend system C: drive without doing anything else.
Download Partition Assistant free trial and check how easy it is to resize Windows 2003 partition without losing data, lol.
You can only extend a drive by shrinking other partition on the same disk, no partitioning software has the ablity to resize partitions between two physical hard disks.
When Windows 2003 Server is running out of space, you'd better resize partition to extend C drive, as low free disk space may cause system reboot or crash, and you cannot install updates or applications.
Related Articles
Merge partitions in Windows 2003
Windows 2003 low disk space
Extend C drive on Windows 2003
Resize partition in Windows 2003 Server X64