Many people have trouble extending the system C: drive on Windows Server 2008, especially on 2008 R2. In fact, there is no difference to extend a drive on Windows 2008 R2, no matter you use Windows or 3rd party partitioning utility.
Why extend system C: drive
Originally, when there is no free space in system C drive, to solve this problem without reinstalling, you have to backup, delete and recreate larger C drive and then restore. How time-consuming and annoying it is. New computer technology make things much easier, nowadays, you can extend C drive by taking free space from other data drives directly.
Which tool to extend C drive in Windows Server 2008
Disk Management
After searching by Google or in Microsoft forum, many people suggest resizing Windows 2008 partition under Disk Management. However, it is not a good idea, why? Yes, Server 2008 disk management integrates 'Shrink Volume' and 'Extend Volume' command, but you cannot extend C: drive by shrinking drive D:.
To extend a drive, there should be next contiguous Unallocated space. After shrinking drive D: the free space is behind D:, of course you cannot extend C: drive in Server 2008.
Diskpart Commands
Diskpart is Windows built-in utility runs by command prompt. Actually, Windows Server 2008 disk management is GUI of diskpart commands, so the same limitation, you cannot extend system C: drive by shrinking drive D:.
Then what to do? Don't worry, there are third party partition software, such as Partition Magic Server, NIUBI Partition Editor Server, either partition software is powerful and easy to use.
Pay attention to data safety when extending C drive
Actually, data and time are both important, what's meaning? If you select any tool at will and cause data loss, it may cost several hour to a whole day to restore, verify data and complete other operations. Backup doesn't mean everything, so it is very important to select a reliable and safe partitioning software. Different with read-only utility, the partitioning software will modify all information of related disk, partition and files in file system. A slight error could cause data damage.
Fortunately, there is a server partition software that can ensure 100% system and data safety while resizing and extending C drive. NIUBI Partition Editor integrated unique Roll-Back technology that is able to roll back the server to the status before resizing in One second, if any sofware error or hardware issue such as power failure occur during resizing partitions. Download to see
Steps to expand C: drive in Windows Server 2008
Step 1: Right click volume D and select Resize/Move Volume.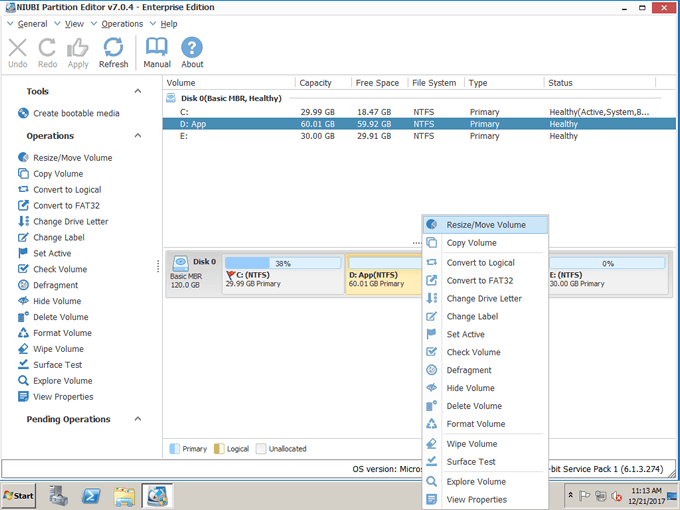 Drag left border rightwards to shrink it in the pop-up window.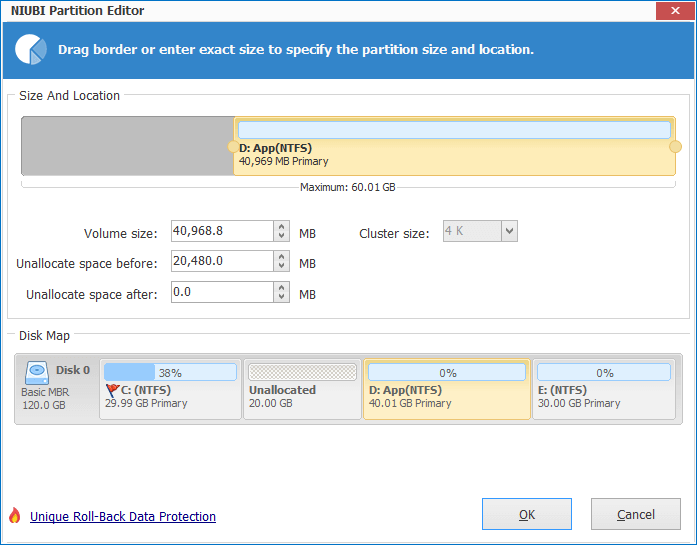 Click OK, 20GB Unallocated space generated behind C: drive.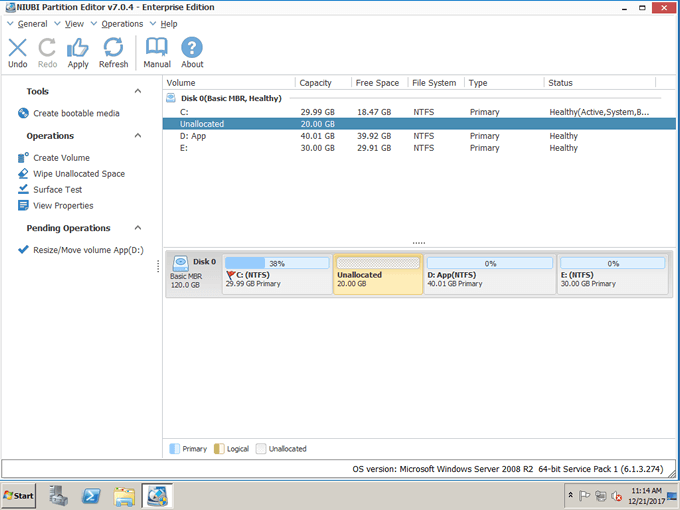 Step 2: Right click C drive and select Resize/Move Volume again. In the pop-up window, drag the right border rightwards to hold the Unallocated space.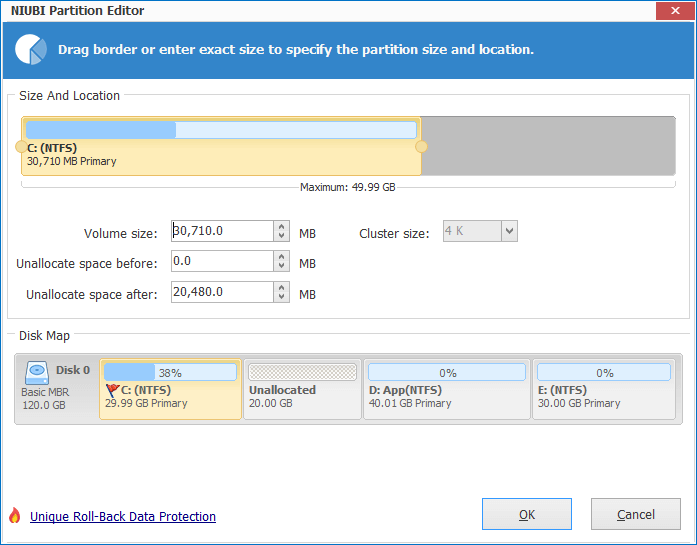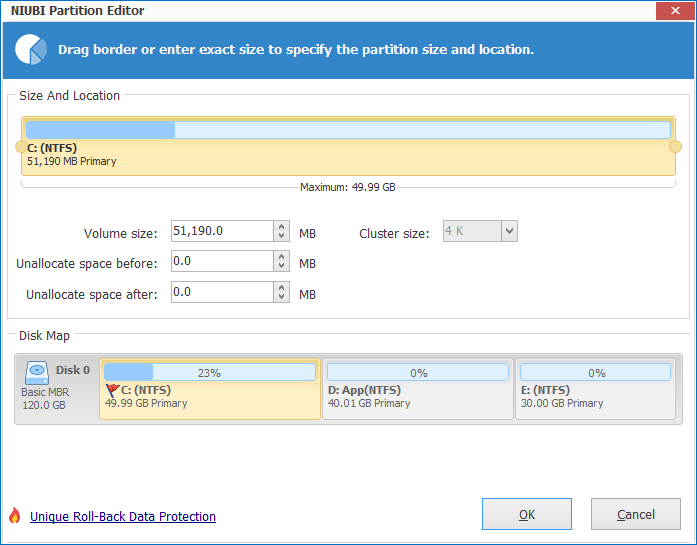 Click OK, C drive will be extended by holding the free space from D. Press Apply on top left to execute. (All operations before clicking Apply only work in virtual mode, you can cancel and redo any step.)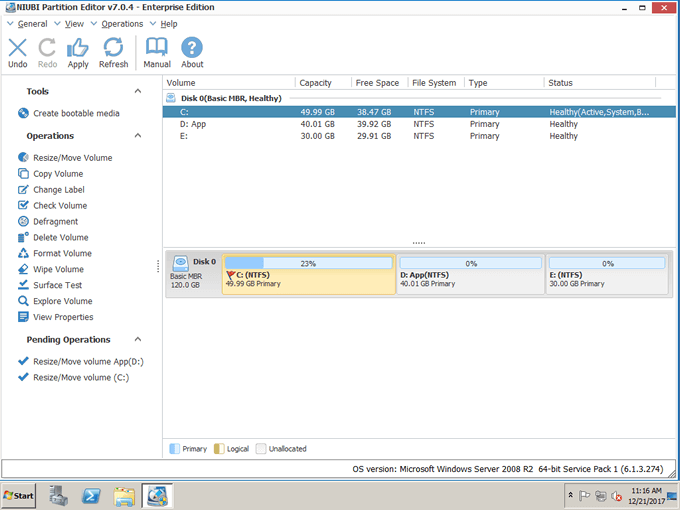 Is it easy to extend C drive on Windows Server 2008?
No partition software is able to extend system C drive by taking free space from another physical hard disk drive.
Related Articles
Diskpart extend Windows 2008 partition
How to resize VMware disk partitions?
How to resize RAID virtual drives?