Combine partitions means bring two partitions together into a large partition, in almost every partition software, this feature is named as 'Merge Partitions'. It is helpful especially when system C drive is running out of space and there is no free space, by combing two partitions, you can add the free space of drive D: to C. However, to many people it is not any easy task to combine partitions in Windows Server 2008, so in this article, I'll introduce how to combine partitions into a larger one.
Combine partitions with Server 2008 Disk Management
Step 1: Open disk management by either of the methods below.
Right-click 'My Computer' > 'Manage' > 'Storage' > 'Disk Management'.
Press 'Windows' and 'R' key, input 'compmgmt.msc' and press 'Enter', and then click 'Storage' > 'Disk Management'.
In most of the server computer, the disk partition layout is like this, drive C: D: and E: in disk 0.
Step 2: Backup the files of drive D and then delete it. The disk space of D will become Unallocated.
Step 3: Right-click drive C and select 'Extend Volume' command. Follow up the next steps you can combine the Unallocated space of D to C drive.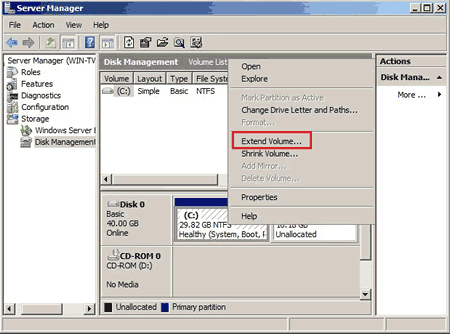 Though it is possible to combine two partitons in disk management, have you found the disadvantages?
You have to delete drive D:
It costs long time to backup and restore, especially when there are large amount of files in this partition.
Under some conditions, you cannot delete drive D if some applications is located, such as SQL Server, Exchange Server, etc.
The shortcuts of the applications installed in partition D become invalid.
Combine partitions by resizing instead of merging
If you want to extend C drive by combining Server 2008 partitions, it is not suggest with destructive way, why not resizing partitions? Shrink the data partition to get free Unallocated space and then add into C drive, so there is no influence to any applications or files, all keep the same except partition size changed.
Step 1: Download NIUBI Partition Editor, right click the adjacent volume D and select Resize/Move Volume.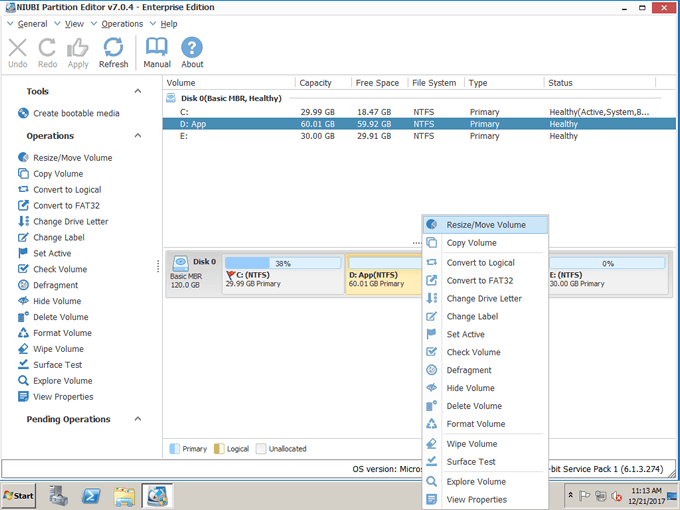 Drag left border rightwards to shrink D.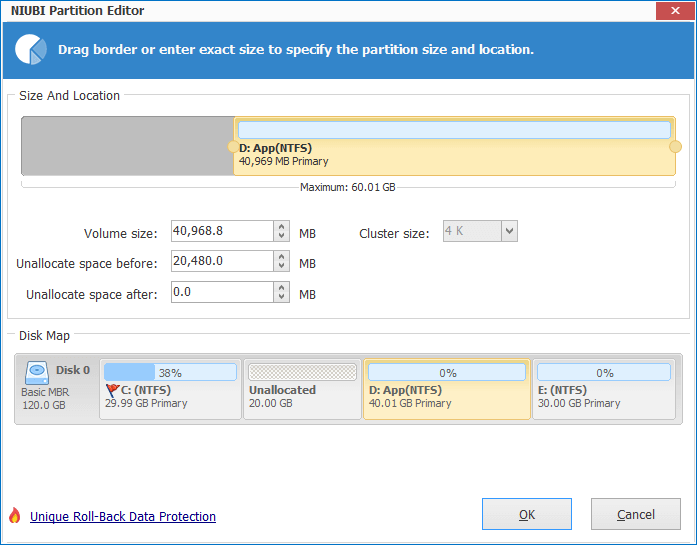 Click OK, it will back to the main window, 20GB Unallocated space generated behind C: drive.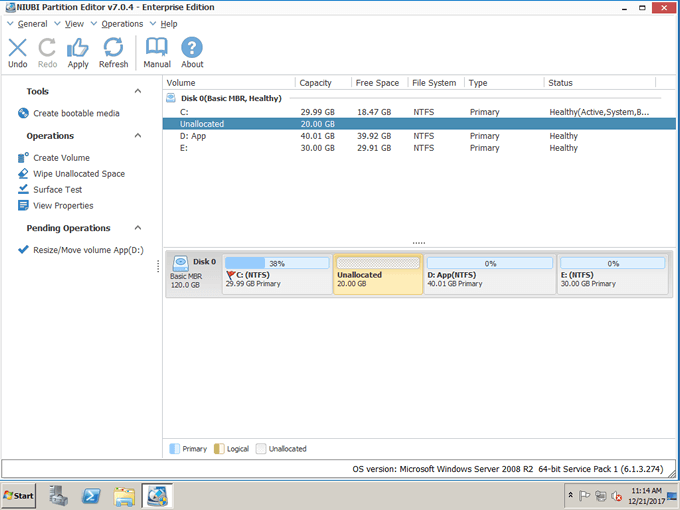 Step 2: Right click C drive and select Resize/Move Volume again. In the pop-up window, drag the right border rightwards to hold the Unallocated space.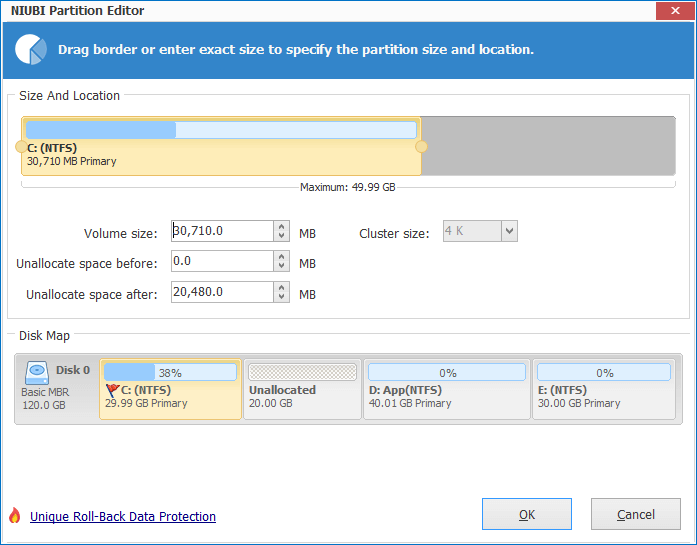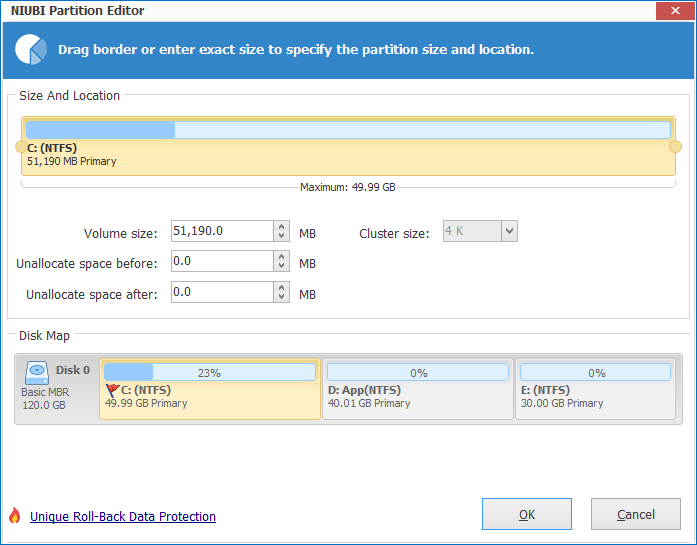 Click OK, as you see, C drive is extended by holding the free space from D. Press Apply on top left to execute. (All operations before clicking Apply only work in virtual mode.)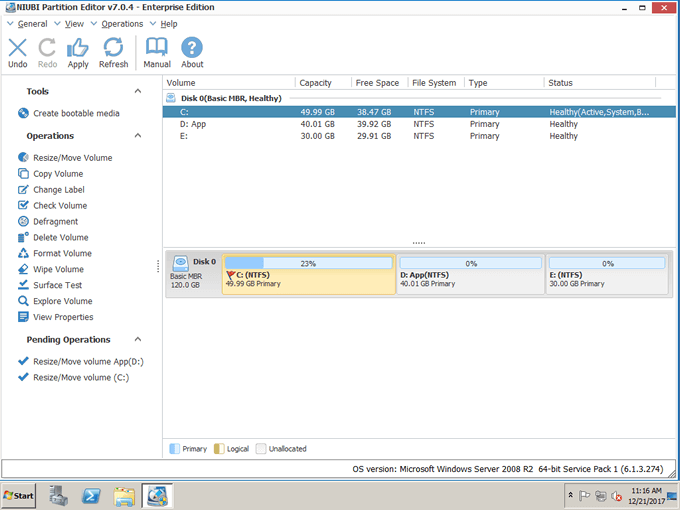 Is it easy to resize Server 2008 partition?
Note: to ensure 100% server data safety, I always recommend NIUBI Partition Editor, because it is the only program integrated Roll-Back technology, which automatically roll back the server to the status before resizing in ONE second, if any software or hardware issue occur duing resizing. So no longer to worry about system and data safety. Furthermore, because of its special file-moving algorithm, it resize partition at least 30% faster than other tools, which is strictly tested. It is also important to reduce operation time to a server.
NIUBI Partition Editor Official page
Related Articles
How to reduce partition size on Windows Server 2008?
How to extend C drive on Server 2008?
How to partition RAID without rebuilding?
How to resize VMware virtual partitions?