Many people are not familiar with resizing a partition, even the people who have such experience will doubt is there any difference resizing a SBS 2003 partition. As a tech guy, I've helped many people solve the disk space problem, so in this article I want to share how to resize SBS 2003 system partition without reinstalling Windows or starting over.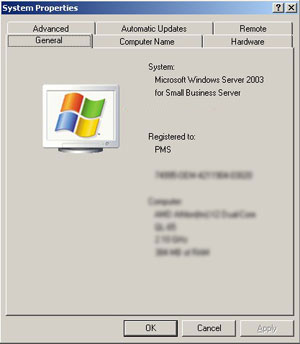 Small Business Server 2003 partition management
The same with other Windows operating systems, you can do basic disk partition management in SBS 2003 Disk Management, such as create, delete, format, change drive letter, but there is no option to resize a volume.
After searching by Google, you may found many articles about resizing Windows 2003 partitions with diskpart. Diskpart is a built-in utility in Windows and runs by comand prompt. Many guys tell you diskpart is able to resize partition, but they don't tell you the limitations. So after reading, you contributed traffic to these websites, but you still cannot solve your problem wasting a long time. (I'm sorry, I shouldn't said this.)
Limitations of Diskpart command
Unlike Windows Server 2008, no shrink command integrated in SBS 2003 diskpart.
The partition you want to extend must be formatted as NTFS, FAT partition cannot be extended.
Only DATA partition can be extended.
You cannot extend the partition if the system page file is located.
The unallocated space for extension must be the next contiguous space on the same disk.
In addition, comparing with graphical user interface software, command line is hard to use for many users and the operations cannot be undone, incorrect operations are very likely lead to data loss.
Resize SBS 2003 partition with partitioning software
Actually, I don't like to use Windows built-in utilities, because in my opinion most of them are semi-finished products. Take resizing SBS 2003 partitions for example, with third party partition software you can shrink, extend and resize any partitions without so many limitation. It is also easier to use and runs much faster. For Windows Server, there are many partition tools, for example, Acronis Disk Director Server, Partition Magic Server, Partition Assistant Server, etc.
Pay attention to data security
Data security is most important for a server, so you'd better select a reliable partition software, an reliable tool is very likely to cause system crash or data loss.
Step by step to resize Windows SBS 2003 partition
Before resizing partitions, you'd better check in disk management. Here is drive C: D: and G: on Disk 0, I want to shrink D: and extend drive C:.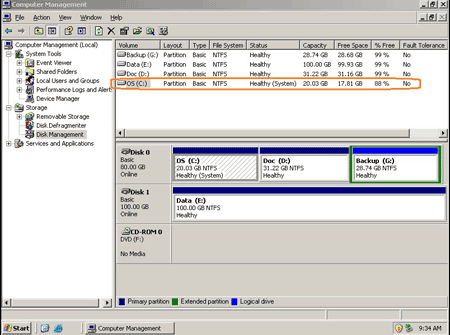 Step 1: Launch Partition Assistant Server, you'll see all disk partitions and other details.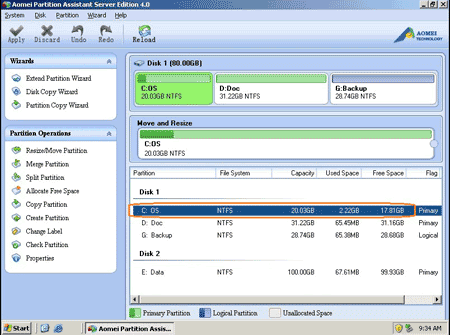 Right click drive D: and select 'Resize Partition', in the pop up window, drag the left border rightwards to shrink it.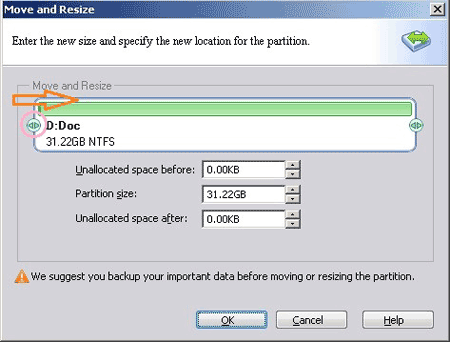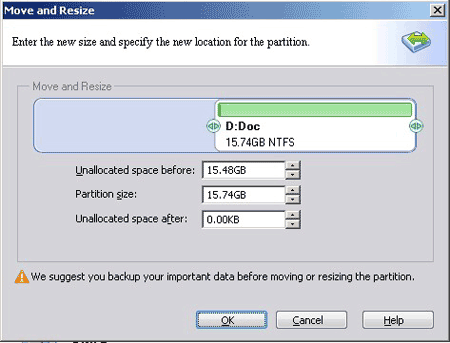 Click OK and you'll back to main window, where you'll find that partition D: shrank and 15.48GB unallocated space created at the end of C: drive.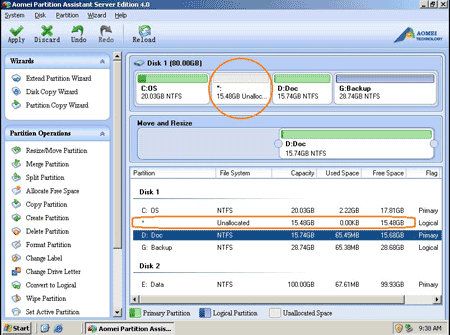 Step 2: Right click drive C: and select 'Resize Partition', in the pop up window drag right border rightwards to hold the unallocated space.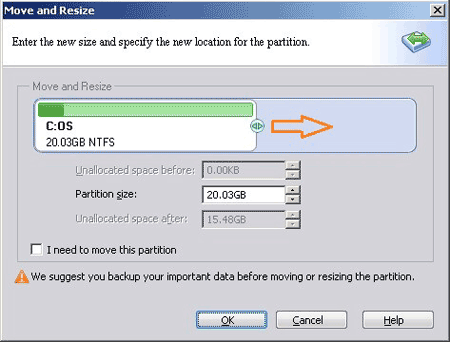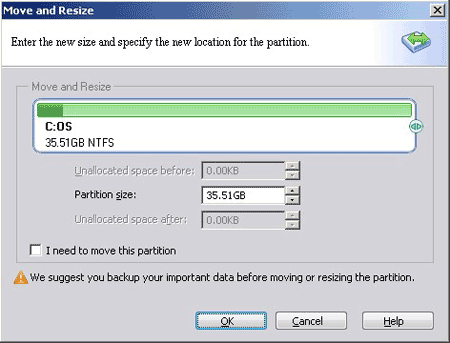 Click OK and back to main window, you'll find that both drive D: and C resized.
Up to now, your disk partitions have not been resized, you should press "Apply" button on top left to proceed the resizing operation.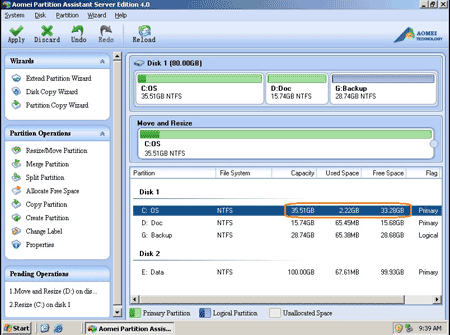 Within several minutes, partition resizing complete, check again in disk management, yes, C drive increased to 35.51GB.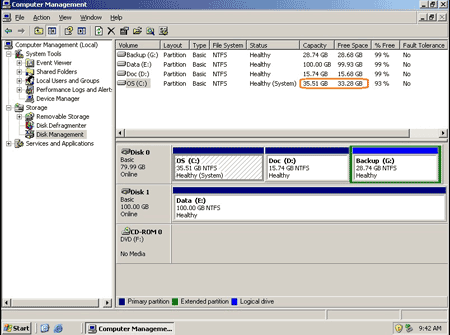 In conclusion, to resize SBS 2003 partition, you just need to shrink a data partition and get some free unallocated space behind C: drive, and then you can easily extend C drive with this space.
Then is it possible to resize nonadjacent partitions, such as partition G: above? Of course it is, you may resize these partitions one by one with 'Resize Partition' feature, no it is too inconvenient, there is an easy way, see how to resize server 2003 partitions.
Related Articles
How to increase partition size on Windows 2003 Server?
How to extend Windows 2003 C: drive?
How to resize RAID partition on Windows Server?
How to resize VMware disk partitions