Though Windows 2008 Server has been released for a long time, many companies still use Windows 2003 Server. Due to Windows updates and applications continuously installed to the Server, the system C drive is running low, so you need a Windows 2003 partition software to resize partition and optimize disk space usage.
To many administrators, it is not an easy task, considering data importance, they don't know which partition software for Windows 2003 is the right choice and how to repartition without data loss. Don't worry, after reading this article, you'll know the answers.
Windows 2003 partition software list
Diskpart command line
It is often mentioned by many people, they just know Diskpart is built in Windows and is free, they don't know or list the limitations. There is a misunderstanding that Windows built-in tool of course is compatible with Windows, is the best and won't cause any problem.
In fact, Diskpart command line is not the right choice and I won't recommend it, as
The volume must be formatted with the NTFS file system, FAT partition cannot be extended.
The unallocated space for the extension must be the next contiguous space on the same disk.
Only the extension of Data volumes is supported.
You cannot extend the partition if the system page file is located on the partition.
Comparing with graphical user interface software, command line is hard to use for many users.
Operations cannot be undone, an incorrect operations lead to data loss.
Stop the Server running for a long time.
Windows 2003 partition software - Acronis Disk Director Server
Acronis Disk Director has long history to support Windows Operating System and File System. It provides disk partition management, partition recovery and disk edit features, support GPT, MBR and dynamic disk.
Of couse the price is much expensive, $609 could purchase more than 4 copies of Partition Assistant Server, even Partition Assistant Unlimited edition plus free lifetime upgrade requires $ 489. However, it's your choice.
Windows 2003 partition software - Partition Magic Server
Partition Magic Server is not only safe with built-in Enhanced Data Protection technology, but also integrated Disk/Partition Copy to keep your data intact.
It helps you resize partition, extend, shrink, split and merge partitions without losing data, furthermore, if the system partition is NTFS, you can extend it withou rebooting.
How to resize Windows 2003 partition with Server partition software
The operations to resize partition are similar with the partition managers listed above, here is an example how to shrink D and extend C with 'Resize' feature of Aomei Partition Assistant.
Launch Partition Assistant Server, you'll see all disks and partitions that connected to your Server, free space, used space and other properties of each partition.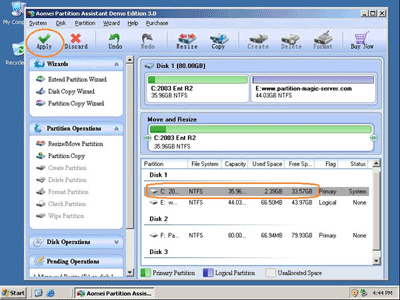 Right-click the data partition and select "Resize", in the pop-up window, drag the left border rightwards to shrink it. There will be some Unallocated space created behind the system partition.
Right-click the system partition and select "Resize", in the pop-up window, drag the right border rightwards to hold the Unallocated space. Click 'Apply', done.
Step by step guides to resize partition on Windows 2003 Server, refer the resources below.
Windows 2003 partition software resources
How to increase partition size on Windows 2003 Server?
How to resize Windows 2003 partition?
How to change partition size on Windows 2003 Server
How to resize RAID 1 partition on Windows Server?
How to resize partition under VMware Server?
Partition manager server for Windows 2003