Many people have trouble dividing partition in Windows 2003 Server, some people don't know how to divide partition and other people tried some tools but failed. Don't worry, after reading this article you'll know how easy it is to divide a partition into two without losing data.
Firstly, let's see some real cases.
I have a 40gb hdd on my PC and its all at C:. The thing is can I divide it into two without reformating the hole system? I dont want to reformat because it takes a lot of times to install everythings... Just want to make 10gb for the second partition from the current C: partition.
I've got partition magic and I'd like to divide one of my partitions. I've got a 320gb hard drive with 120gb free space, I'd like to create a new partition using that 120gb of free space.
I have try using PQ magic 8.0, but It cannot install on my w2k3, so i wanna know have any program can help me do it on w2k3. I don't want do it on dos environment, because if have nothing important can't come in server room.
Is it possible to divide partition in Windows 2003 Server
Of course it is possible, but firstly you should select the right tool. Partition Magic cannot be installed in Windows Server 2003, 2008, furthermore, it is no longer for selling from Symantec.
There are many server partition software, such as Acronis Disk Director, Partition Assistant Server. Note, diskpart command built-in Windows 2003 has no shrink command to divide partition into two.
Step-by-step to divide disk partition
Firstly, check in disk mangement, there is only one partition E: on disk 1. I want to divide it into two. (If you want to divide system C drive, it is similar.)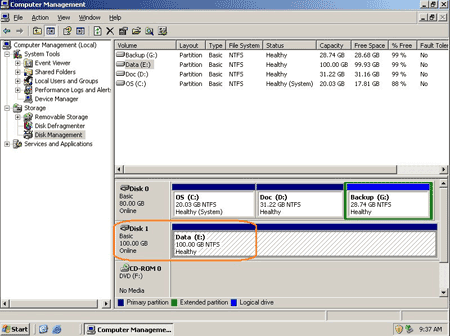 Step 1: Launch Partition Assistant Server edition, you'll see the disk parttion layout which is similar with disk management.
Right-click partition E: and select 'Split Partition'.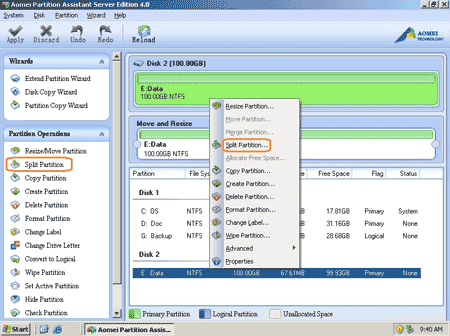 Step 2: In the pop up window, original partition will be divided into 2 drives, you may keep the default partition or change partition size by yourself.
Drag borders of the two partitions on the top
Type a value for partition size in the box at bottom.
Press up and down button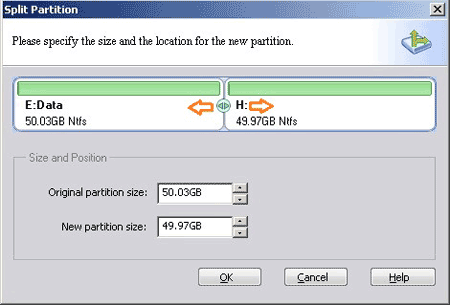 After click OK, you'll back to main window, where you'll find that original partition E divided into E and H.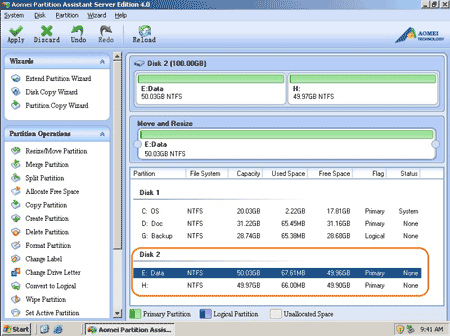 Step 3: In the main window, click 'Apply' on top left to proceed dividing operation.
Very quickly, dividing complete, check again in disk management, yes, partition is divided into two.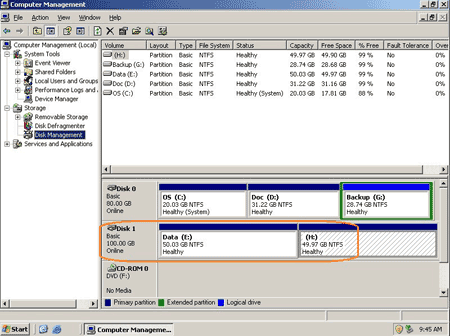 Do you think it is easy to divide disk partition in Windows 2003 Server?
Related Articles
Partition Magic for Windows 2003 Server