For many people, it is a headache to resize or extend a partition in Windows Server 2008, the typical examples:
I am using Windows server 2008 and a 360 GB hard disk connected, this disk is partition individual in two drives. Now the 35GB C: drive running low and I want to resize this partition. Is it possible? Please suggest.
We have a Windows Server 2008 with C: and D: drives. I freed up 40GB from D: drive, but the "Extend Volume" on the C: drive is grayed out. Can you please tell me how can I extend the Server 2008 C drive?
Good news from Microsoft is, disk management built-in "Extend Volume" feature is able to extend both data drive and system partition online. The bad is, you cannot extend the C: drive until you delete the next contiguous data partition.
Another Windows built-in utility - diskpart is neither able to extend Server 2008 partition without losing data.
The best choice to extend Server 2008 drive is 3rd party partitioning software.
Extend Server 2008 partition with partition software
With third party partition utility it is much easier to resize or extend partitions. Among these tools, Aomei Partition Assistant is most popluar, because:
Easy to use, no professional assistant is required.
Unique data protection technology keeps data intact while resizing partitions.
Unique hot resize technology helps you extend Server 2008 NTFS partition without rebooting.
Runs fast, within several minutes to half and hour the partitions can be resized.
Windows Server 2003/2008 and SBS 2011/2008/2003 32 and 64 bit are all supported.
Hard disk drive, HAID array, VMware, Hyper-V, USB disk and memory cards are all supported.
Step by step to extend partition in Windows 2008 Server
Before change a partition size, you'd better open Disk Management and find out the disk layout. There is drive C: D: and E: on Disk 0, C drive space is 35.01GB.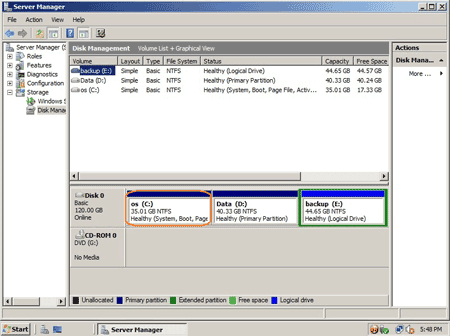 Step 1, launch Partition Assistant Server, click "Extend Partition Wizard" from left control panel or under menu "Wizard"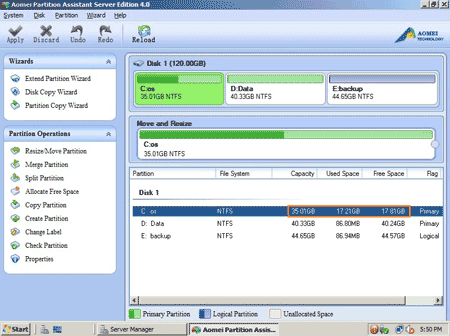 If you want to extend system partition, select the first choice, otherwise, select the second one.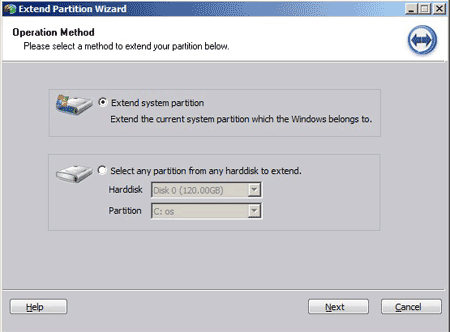 Step 2, Click "Next", there is only one choice "Automatic Mode for extending a partition". If you tick it, all other partitions will be shrank to extend C: drive automatically, so untick it if you want to shrink one or two data drives.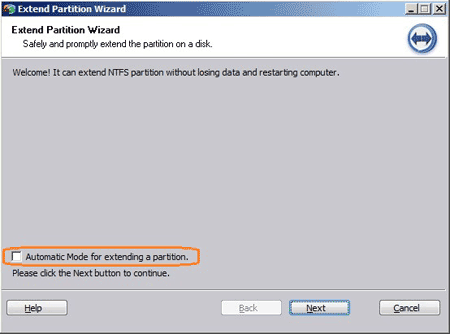 Step 3, select the drive(s) you want to shrink.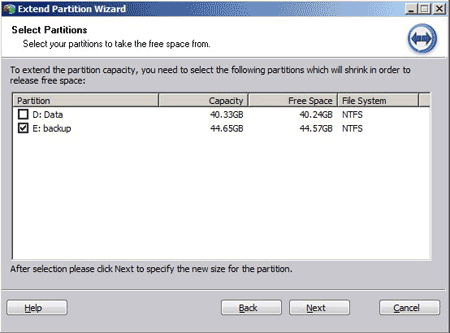 Step 4, Drag the scoll bar rightwards or define the new partition size of C: drive directly.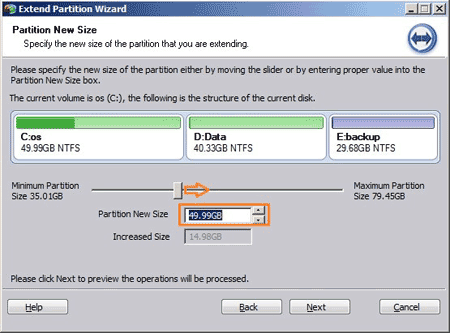 Step 5, preview the operations, click proceed or back to modify.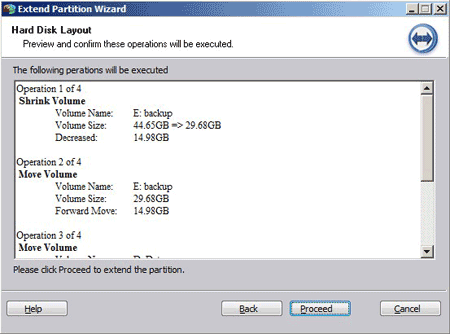 Very quickly, partition extending complete, check again in Disk Management, C drive space increased to 49.99 GB.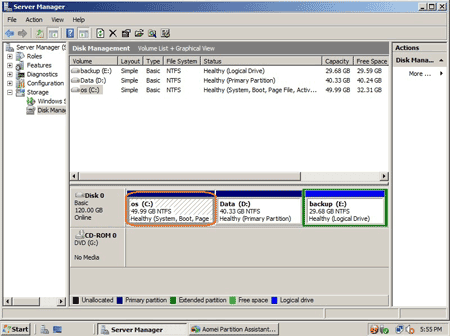 There is another easier way to extend Server 2008 drives with less steps, see how to resize Server 2008 partition.
There is no partition software that is able to extend a drive by taking free space from another physical hard disk drive.
Partition Assistant Server is not only a server partition resizer or drive extender, but also a toolkit to manage server disk partitions. It is also able to shrink partition, merge partitions, copy disk and partition, convert between Logical and Primary, create, delete, format, hide, set Active partition and much more.
Related Articles